Ghanaian agric firm B-Bovid wins prestigious UN award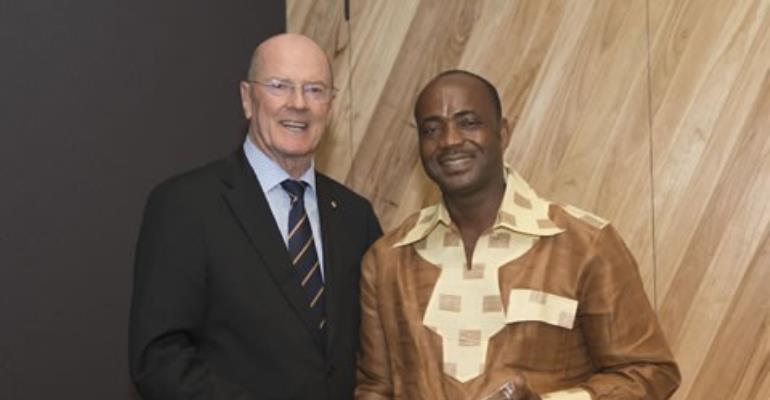 A Ghanaian social enterprise based in the Mpohor District of the Western Region, B-BOVID, has won a Social Investment Pioneer Award along with nine other businesses from around the world.
The awards were given in recognition of the companies' outstanding contributions to local community development.
The awards are the initiative of the Principles for Social Investment Secretariat and the United Nations Global Compact. The inaugural award ceremony took place in Melbourne on 28 November 2012. It is the first time best practice in different forms of social investment has been recognized at a global level.
B-BOVID is an integrated organic agro-business which promotes a new model of socially inclusive commercial farming combining innovative agricultural practices, ecological farming and social entrepreneurship to deliver high quality organic products, conserve the environment, promote sustainable lifestyles, create jobs and reduce poverty in rural communities by providing training and support to local farmers and sharing its profit with small –scale farmers. The company operates on the values of improving people, the planet and profits (PPP).
B-BOVID's seven hectare block is a hive of industry including: an oil palm nursery, almost completed organic palm oil and palm oil kernel mills together with an organic vegetable oil refinery, an ICT for Agriculture centre, agricultural machinery centre, an organic alternative livelihood centre, organic vegetable demonstration centre and organic aquaculture.
Issa Ouedraogo, the founder and CEO, says B-BOVID stands for Building Business On Values, Integrity and Dignity which sums up the way the company works.
"Everyone at B-BOVID is delighted at this recognition through the award as it endorses our approach of using the power of business to achieve social, environmental and profitable financial returns. Having global recognition will help strengthen our engagement with others and create interest in Ghana and more widely in West Africa about socially inclusive business. It will encourage other enterprises to realize that that they too can be profitable and work in a more responsible and inclusive way. We like to say that: we win when we all win."
Mr. Ouedraogo added that B-BOVID, a socially inclusive model was also among other sustainable business models that were showcased at the 15th International Business Forum in Pretoria- South Africa in October this year.
He says he hopes to promote sustainable agriculture and lifestyle as a way forward in the Western Region for sustainable economic development. He believes it can be an alternative option for youth and farmers who cannot easily work or benefit from the oil and gas sector.
He urged the government agencies, donors and companies operating in the Region to come together to find ways and means to contribute to achieving this objective because this will not just help communities but also the companies by creating jobs, wealth and ensuring food security and peace for all.
Other companies to receive the award included the Indonesian branch of Unilever; an Australian Company (Small Giants); a Spanish finance foundation (BBVA Microfinance); and a Canadian/Columbian company (Pacific Rubials Energy Corp).