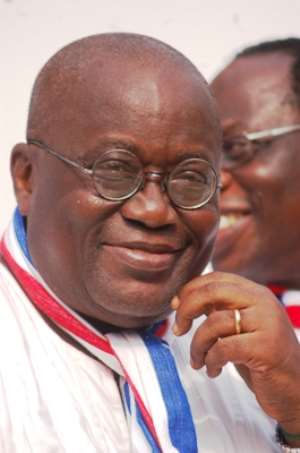 The Presidential candidate of the New Patriotic Party (NPP), Nana Akufo-Addo has stated that the party will not accept the results of the December 7 Presidential elections as declared by the Electoral Commission.
Addressing party supporters at the Obra spot at Circle on Tuesday, Nana Addo said: "We are not accepting the result that was declared by the Chairman of the Electoral Commission. That is the official position of the New Patriotic Party."
According to him, the position was taken by the party because "we have seen a lot of things which shows that there was miscalculation of the results of the election. So the party has left everything in the hands of our lawyers."
"The laws which govern the country, called the national constitution, indicates that if you have a problem with the results of the Presidential elections, you can go to the Supreme Court for the Judges in the court to look into the matter," he added.
Nana Addo insisted that the NPP will not rescind its decision to appeal the results of the elections in the Supreme Court saying, "within this week, you will hear that we have petitioned the court."
He appealed the members of the party to exercise restraint while the leadership of the party dealt with the matter because "we are a strong willed party, we are courageous but we are not destructive."