Nyarko To Make Dramatic Comeback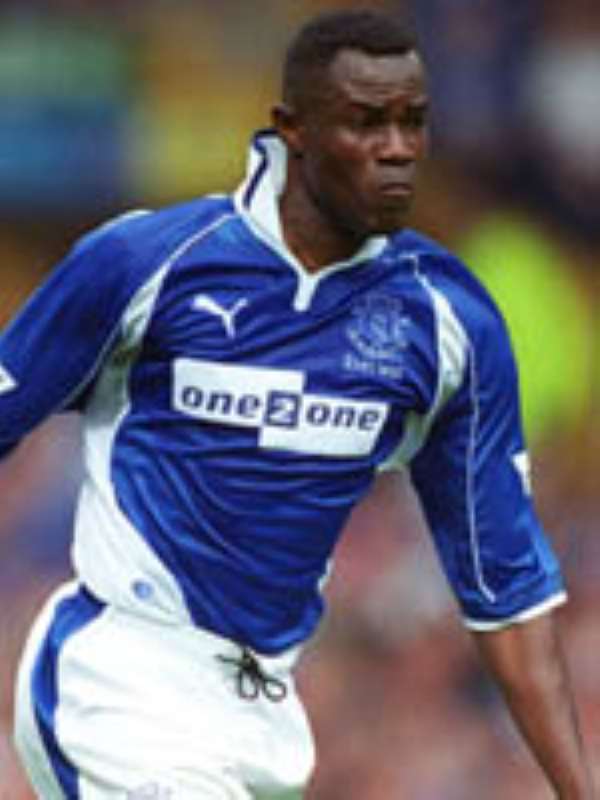 Everton outcast Alex Nyarko is ready to be brought out of the Goodison Park wilderness for the Carling Cup clash against Charlton Athletic.
The Ghanaian midfielder has not featured for The Toffees since April 2001 after vowing to never pull on an Everton shirt again after being accosted by a supporter at Arsenal.
Nyarko has spent the past two seasons on loan in France but, after returning to Merseyside in the summer, has worked his way back into first team contention.
He was in the squad for the Premiership tussle against Aston Villa last weekend and could be handed the chance to put the past behind him when Everton tackle Charlton on Wednesday evening.
"Alex Nyarko is very much in our thoughts just now," Toffees assistant manager Alan Irvine told the club's website.
"He's playing very well right now. He's put in some terrific performances in the reserves and Alex is very close to being selected.
"He's definitely in the frame. He's been talked about a lot in recent weeks. It was very close to Alex playing at the weekend and he'll be very close to playing in this game as well."
Irvine admits Nyarko's past indiscretions will have no bearing on whether he is selected for the club as manager David Moyes was not at the helm when the African made his pledge.
"We have no grudge to bear with Alex anyway because we weren't here when it all happened," added Irvine. "We simply saw Alex coming back as being another player for us.
"We hope that he does continue to perform as he has been doing recently and that he will get the opportunity and hopefully take that opportunity."