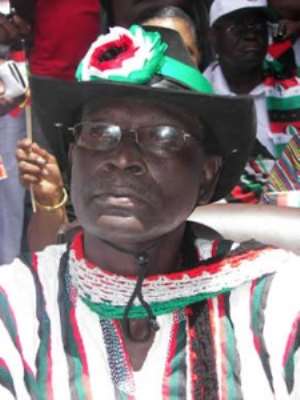 The ruling National Democratic Congress (NDC) put up a sterling performance in the Ashanti Region in this year's general elections, compared to that of 2008.
Prior to the elections, the ruling party, by its own calculation, had targeted about 500,000 votes in order to secure a win in the presidential elections, but got more than 600,000.
In the 2008 elections, the NDC obtained 479,633 votes, representing 25.61% of total votes cast in the region, but appreciated significantly in last Friday's elections, securing about 28.67% of the total votes cast in the region.
However, their opponents, the New Patriotic Party (NPP), which targeted 80 to 85 percent, failed to attain it, recording just a little above 70%.
Apart from appreciating in percentage of total votes cast, the ruling party also increased its parliamentary tally from three to four seats, though they lost the Ejura Sekyedumase seat, which was one of the three seats occupied by the ruling party previously.
It, however, managed to retain two of the seats, Asawase and the New Edubiase, and added that of Ahafo Ano North and one of the newly-created constituencies, Sekyere Afram Plains.
The ruling party relatively increased its total votes in major constituencies like Subin, Oforikrom, Bekwai, Offinso North, and other constituencies dominated by the NPP.
The sterling performance by the ruling party has been attributed to rigorous campaigning, particularly in the rural areas.
One of the members of the campaign team in the Ashanti Region, Kwasi Ofori Agyemang Boadi, aka King Zuba, told The Chronicle in an interview that hard work, resilience and dedication kept the NDC through in the elections.
He said the campaign team concentrated its attention in the rural areas, targeting voters in the village and towns outside the Kumasi metropolis.
'While we were touching base with voters at the grassroots, our opponents sat on radio trumpeting free SHS,' Zuba noted.
The Ashanti Regional communication campaign team was led by its Regional Secretary, Joseph Yamin, and had other members such as Kobby Onasis Rosely, Kwame Zu, Mr. Wallace Ababio, Kwaku Boahen and Ebenezer Alooke.