December 8, 2012
|
Election News
Electoral Challenges Has Not Undermined Election Process—Obasanjo Observes
WILLIAM NANA YAW BEEKO, Online Editor, Modern Ghana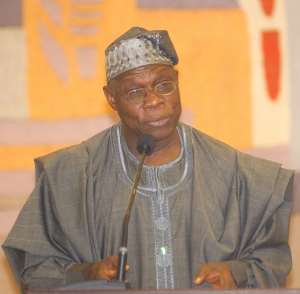 The ECOWAS Observer Mission in Ghana led by former Nigerian President, His Excellency General Olusegun Obasanjo, has revealed that the widespread challenges which mainly had to do with broken down biometric machines has not in any way undermined Ghana's 2012 General Elections.
According to him, a lot of eligible voters still waited patiently in long queues to cast their ballots and this has made the process clear and smooth without reports of any serious disputed results.
He has however, urged all Ghanaians to continue to remain calm and count on the Electoral Commission of Ghana to do due diligence in the collation of results.
General Olusegun Obasanjo also indicated that there have been a lot of consultations between the ECOWAS Observer Mission and the various election stakeholders as well as the Electoral Commission to ensure that the election process remained free, fair and credible.
It worth pointing out that the ECOWAS has put in place a 250 Elections Observation Mission under the leadership of former President of Nigeria, Olusegun Obasanjo to observe Ghana's December polls.
The team has the task of monitoring the December elections with the goal of ascertaining the level of credibility and peacefulness of the elections process.
The pre-election team is expected to hold discussion with Civil Society Organisations on roles to consolidate peace and promote free and fair elections.