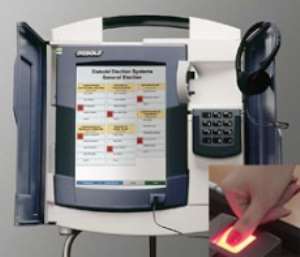 A 32-year-old man, Ernest Erzuah with voter ID number 4398003782 dashed into a nearby bush at supersonic speed at Half Assini in the Western region when the biometric machine exposed him as a multiple voter during the special voting exercise on Tuesday.
Just after Erzuah had put one of the fingers on the biometric machine it voiced out "voter already verified" and in a split second, the culprit sped into the nearby bush with amazing rapidity.
The incident, according to Kwabena Asante, Jomoro District Electoral Officer, happened at 11 a.m. at the District Assembly Polling Centre in Half Assini, a clear indication that Erzuah had earlier voted.
He said Erzuah was neither a security personnel nor staff of the EC, but was among those who applied to take part in the special voting.
He stressed that he would provide particulars about him to DAILY GUIDE later.
A police source, who described Erzuah as "a man with supersonic speed and second to thunderbolt," said some security personnel in the queue could not help but laugh while a few chased him but to no avail.
Meanwhile, the Jomoro District Electoral Officer said he would lodge a formal complaint with the police to bring Erzuah to book.