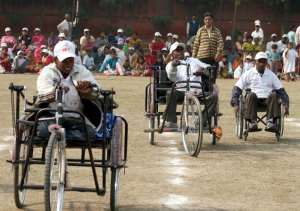 The Offinso Physically Challenged Action Foundation Centre, has taken delivery of 105 wheel chairs valued at US$26,250.00.
These were gifts from "Point Hope Ghana", an NGO, based at Budumburam in the Central Region.
The "personal energy transport (PET)-cart" wheel chairs are meant to significantly enhance the mobility of the physically challenged trainees at the Centre.
They are being trained in hairdressing, carpentry, leather works and shoe making.
Mr. Chris Amuzu-Addo, the National Director, said there was the need to place premium on disability issues.
He said more ought to be done to equip those with physical disability with trades and vocations to make them economically self-supporting.
To do this, he said, the rehabilitation centres must be adequately resourced.
Mr. Amuzu-Addo promised to make regular visits to the Centre to lend support to the training of the physically challenged.
Mr. Barimah Antwi, Director of the Centre, said they were grateful for the gesture.
He appealed to philanthropists and organizations to assist them in the construction of a disabled-friendly basic school – kindergarten- primary and Junior High School (JHS).