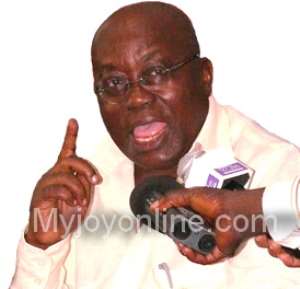 Our country is saddled with yet another epic contest to decide its forward movement and that of the people. We go to the polls once again to exercise our democratic right- a right which did not just happen by chance but by the collective efforts of some great men and the good people of Ghana who defied all odds to ensure that the rule of law and constitutionalism flourish in our land and become a means to which our lives depend on.
One of such great leaders in the struggle for the restoration of rule of law and democracy which we all enjoy today post-independence was Nana Akufo-Addo- He seeks not for himself but for the mass of our people.
Undoubtedly, the stakes are so high and tension is at its ascendency in this our elections as various political groupings intensify their activities to deliver victory on their respective sides.
But, one thing which is abundantly visible in this elections is the fact that it will determine the future of every man, woman and child- a future which looks bleak due to visionless, incompetence and the misdirection of policies by the current regime.
Ghanaians irrespective of where they belong will have to be bold and reject a failed government by embracing a government that has chalked success in its tenure; politics now transcends mere partisanship, it is about whom can best deliver in the supreme interest of the people.
I have no doubt in my mind that Ghana in the last four years under the reign of NDC has witnessed tremendous retrogression that has left many individuals and households in economic and social calamity.
We now live in a Ghana were propaganda is exalted and make-belief pitched against reality.
We need to chart a new course that will restore hope and confidence in the Ghanaian people; we cannot continue our traditional methods of doing things. Ghana must be restored, and must move forward. In doing so, we must first begin with a change of its leadership.
The man Nana Akufo-Addo throughout his private and public life has always stood for what is right and the vulnerable in our society. He is passionate about Ghanaians and demonstrated his ability to ensure that Ghana is placed on a pedestal that will make her competitive in the global arena.
He is incorruptible, decisive, visionary and bold- a leader you can trust to deliver a comprehensive program that will transform Ghana, and in the process transform lives.
Another four years to the NDC will be another four more wasted years. Four more years of 'wayomization', four more years of 'dumo-dumso' and four more years of severe hardship.
Ghana deserves better and not the 'Better Ghana' cliché being espoused by the failed NDC government.
The NPP under the Presidency of Nana Akufo-Addo, God-willing, intends to create a modern society full of opportunities with an educated and skilled workforce- an economic revolution that will bring prosperity to all- no individual will be left out in this project.
Ghana must work again; we have an opportunity now to make a decisive choice, either for Free Quality SHS, Quality Healthcare and Jobs to improve upon the quality of our existence or side with a propaganda infested non-performing government soaked in so much gargantuan corruption that will continue to make life unbearable for us and our dependants.
I trust Nana Akufo-Addo to deliver and so must you!
Chief Obosu Mohammed
[email protected]