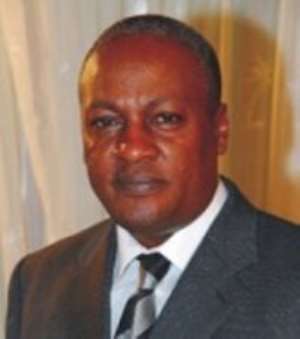 The two main religions in Ghana; Christianity and Islam both enjoin their followers to give charitably to the needy in our community. The Bible entreats Christians to give freely to the poor what God has blessed them with. In much the same way, the holy Quran mandates Muslims to give alms to the hapless from whatsoever has bestowed to them by Allah. Then again, isn't it what common sense teaches us all: to help each other out in life especially, the weak and the vulnerable? It is purely a matter of principle and morality. For the nouveau-riche and the bourgeoisie in any society to deny the have-nots of some of the basic necessities of life, borders on avarice and sheer greed. It is criminal; even evil, when an individual on whom society has bestowed so many 'free things' to become the one to deny same benefits to similarly needy children. That is the character-trait of the wicked; those former President Rawlings refers to as "greedy bastards". They want it all for themselves so that the poor would always suck up to them for succour. It is only a child which usually refuses to give back again to the benefactor when the opportunity avails itself. Ordinarily, this infantile character-trait of children is laughed at when toddlers exhibit it but that behaviour takes a different tone when adults take up that fiendish tendency! It is evil, schizophrenic and Machiavellian (apologies to Pastor Mensah Otabil).
Democracy is contest of ideas and not pessimism against optimism. The NDC, it appears do not realise this. They have turned the political discourse into a cacophonous wailings of how Nana Addo cannot implement his "Free SHS" policy. The contest for the presidency between the New Patriotic Party's Nana Addo Dankwa Akufo-Addo and the National Democratic Congress' John Dramani Mahama has thus been reduced to the optimist in the former as against the pessimist in the latter. I say this with no disrespect to the other political parties. The arrowhead of Nana Addo's campaign message has been "Free and quality SHS, free and quality health care for the underage, the old and the vulnerable and job creation" etc. The NDC and John Dramani Mahama on the other-hand, have their campaign message spearheaded by "free SHS is not feasible, free school uniform, school-under trees" etc. For the purpose of this write-up, I would focus on Nana Addo's "Free SHS" as against John Mahama's "Free SHS is not possible" discourse. If politics is contest between ideas, then the NDC's "Free SHS is not possible" without giving us any viable alternative is a defeatist. They have not offered any credible alternative to Nana Addo's "Free SHS" policy other than to say. The NDC seems to be experiencing flight of ideas when it comes to that policy. The pathetic excuse that "Free SHS" could only be possible in the next 20 years is laughable and it betrays them as a party bereft of ideas. Then again, President Mahama and his NDC have also said that that the "Free SHS" policy is feasible after all but; they need to put up infrastructure first but they forgot that availability of infrastructure is not a sine qua non for 'quality'. Another crude excuse the NDC has bandied about is that, "free education" would compromise quality. I would have had no problem with their second excuse but not when that stance is blatantly bedevilled with such high level of hypocrisy and fiendish greed.
Dr Kwame Nkrumah of blessed memory first introduced "Free education" decades ago. However, he started that programme in the northern part of Ghana. From that time until now, the three northern regions have continued to enjoy free education until today. A greater majority of prominent citizens from northern part of the country did enjoy free education. The President himself is a beneficiary of free education and if John Mahama enjoyed free education, why in the devil's name would he and his cohorts want to deny the poor Ghanaian child same? Their excuse that there are so many "schools under trees" is a caricature of political gimmickry. The question every ardent political student and conscientious Ghanaians ask is this: how many schools were in modern concretised structures when Nkrumah first introduced that policy in northern Ghana some 5 decades ago? If indeed schools up north were in concretised structures at the time, then those structures would have been very cheap in deed for all them to have collapsed for the NDC to seek to remove schools under trees even up in northern Ghana today. On the other hand, if the infrastructure were then not up to scratch when the policy was being implemented and yet, the system churned out such products as Alban Bagbin, Fuseini Mumuni, Collins Dauda, a certain John Dramani Mahama et al; then the NDC's excuse to put up infrastructure first before implementing "Free SHS"; is a palpable joke!
As for the other excuse that "Free SHS" would compromise the quality of education; the least said about it the better. It is just a quintessential tomfoolery! The NDC exposed their crass ineptitude by resorting to Pastor Mensah Otabil's teaching to score cheap political points. They needn't have gone to extent of forcibly dragging the renowned man of God into a heated political. A clear case of a drowning man clutching at straw! If Ghanaians were to believe their childish nonsense and myopic reasoning, then one cannot help but conclude that Ghana has indeed been cursed by nature to have among others, an ex-Attorney General in Martin Amidu, Housing Minister in Alban Bagbin, Former Vice President and now President in John Mahama; all of whom had free education! The problem with the NDC is that, though they have some brilliant brains, yet it appears the irrational heads in the party are always given the platform speak first on serious national issues hence, the flight of ideas and inconsistencies they exhibit in their arguments. President Mahama's father was a well-to-do man and yet took all his 19 children (including the President) from Accra to northern Ghana just to take advantage of the free education. Whoever said "free" things offered by the state is inferior or cheap has no clue what they are talking about. The United Kingdom has free public transport for children, pensioners and the vulnerable. The Queen's country also has free health care system for same category of people. Would anyone in his right mind argue that the free transport and health care these categories of people enjoy in the UK are of inferior quality when the rest of the tax-paying citizens and residents still use same public transport (buses, trains, trams etc) and same doctors as the named categories of people do? Similarly, how could "Free SHS" compromise the quality when tutors with same level of training would teach the students? It simply beggars belief! If "Free Education" were inferior as the NDC would want us to believe whilst a beneficiary of same policy like John Mahama is President of the country, then all Ghanaian children would also like to have similarly "inferior" education just so that they could also become presidents in future.
The problem with John Mahama is that, he is not a man who makes informed decisions as he clearly admitted in his infamous book; "My First Coup d'état". It is no surprising therefore the inconsistencies being shown by his campaign team. In spite of his father's riches, John Dramani Mahama was removed from Accra to go to northern Ghana just so that he and his 18 other siblings could have "Free Education". Therefore, if anybody at all should oppose Nana Addo's "Free SHS", that person should certainly not be a certain John Dramani Mahama! Ghana has been overly generous towards him for the same person to seek to deny others just a fraction of what he has been enjoying from birth. His greed knows no bounds. He's had free education. Then he became a Vice President for free as that is not an elective office. Then he becomes President by default upon the death of late President Mills. Such a freeloader! The Bible says in Luke chapter 12:48 "…For unto whomsoever much is given, of him shall be much required: and to whom men have committed much, of him they will ask the more." – KJV (emphasis is mine). Ghana has invested so much in the man called John Dramani Mahama. Yet when Ghana gave him the opportunity to give something back to the needy in our society, all he could say is that "Free SHS" is not possible. Absolute balderdash John! It is rather incongruous that a freeloader like John Mahama would be the one who would seek to deny the poor and the needy in our society "Free SHS". To put it bluntly, Ghanaian mothers are crying for "Free SHS" for their children now because, they believe that if John Mahama who benefited from similar policy without the best of infrastructure could rise to the Presidency, then they would rather have it for their children without the best infrastructure as well!
Nana Addo's "Free SHS" has become sweet music to the ears of the poor Ghanaian. Let the NDC continue to be disingenuous by opposing it. The electorates are discerning enough and have made up their minds already. Folks have sharpened their thumbs to show John Mahama and his cohorts the exit come December 7th. It is the only godly thing to do to save our beloved country from descending into the doldrums. Ghanaians owe it a duty to our beloved country.
Kofi Kyei-Mensah-Osei