GM Foods threaten food security and sovereignty - Action Aid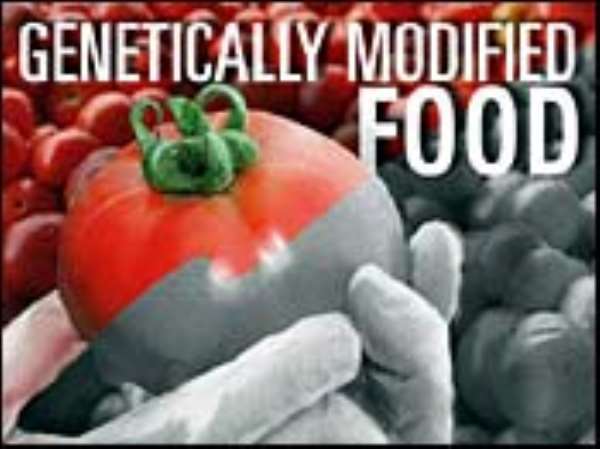 Accra, 27, Oct., GNA - The various aspects of modern biotechnology such as genetic engineering to genetically modify organic foods (GMO) affect the direction of food sovereignty, self-sufficiency and security, Ms. Anna Antwi, a delegate from Action Aid, a Non-Governmental Organization (NGO) said in Accra on Monday.
She said, " it is claimed that Genetically Modified Technologies will increase food production, reduce environmental degradation, provide more nutritious foods and promote sustainable agriculture and food security; however, research conducted on the viability of this position has shown otherwise.
"Research on the viability of GMO showed that, " poor farmers using GM seeds are not able to pay royalties, meet the cost of high inputs needed for use with those seeds and incur high indebtedness in the process.
"This causes reduction in anticipated yield, which in turn will put food security and sovereignty under threat".
Ms Antwi, who was speaking at the un-going sub-regional workshop on trade and food security in West Africa said a proposal by the US President, George Bush for African countries to end hunger in Africa using GM foods posed a threat to food security and sovereignty. She said, " in 2002, when the World Food Summit (WFS) proposed an increase in commitment to research in biotechnology to support the use of GMOs, claiming GM foods will eliminate hunger, Civil Societies and indigenous people expressed deep concerns because the WFS plan of action had failed miserably and the only part that was implemented was Trade liberalisation".
Ms Antwi said, "trade liberalisation is being forced on developing countries, whilst the developed nations have taken projectionist approach. Huge subsidies in developed countries result in 'dumping' of agricultural produce into world markets and in developing nations, depresses world prices, displaces export in developing countries and undermines domestic production as local producers are unable to compete. "The implication of these moves for poor farmers in West Africa sub-region is forcing ECOWAS to rely on trade to achieve food security". She said, "With this market liberalisation, GMO foods may find their way into our markets".
Ms Antwi said for progress to be made in attaining food self suffIciency and security in West Africa , there was the need for moral imperative, economic obligation and strong political will from all stockholders in sharing responsibility and resources to achieve a common and shared objectives.
She called on ECOWAS to implement functional and workable structures and framework for trading among themselves in the food sector, and strategies to empower its society by building effective farmer based organisations.
Ms Antwi said it was time for bold decisions to be taken from the various governments in the sub-region to nurture and support local industries and agriculture against foreign competition and create favourable environment for food producers.
Delegates from Ghana, Senegal, Niger, Nigeria, Burkina Faso, Cote d'Ivoire and Benin have agreed to deliberate on the issue and come to a conclusion on the paper presented. 27, Oct. 03.