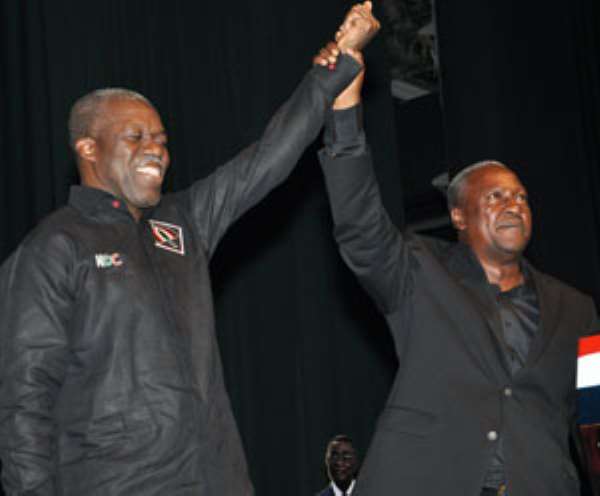 Mr. Kwaku Anane-Gyinde Director of Communication of the New Patriotic Party (NPP) in Germany has reminded Ghanaians that a vote for President John Dramani Mahama in the December polls will amount to an endorsement of corruption and the perpetuation of incompetence and mismanagement of the economy.
Speaking on the Bremen-based Ghana Waves FM on the topic "why President Mahama should not be elected" Mr. Anane-Gyinde explained that the four-year reign of the NDC has been characterized by massive and unprecedented corruption most of which have been supervised by President John Mahama.
He pointed out that almost all transactions led or conducted by President Mahama for and on behalf of the people of Ghana have been tainted by scandals a situation that raises serious questions about the integrity and honesty of the President as to whether he can be trusted with the public purse.
According to him the numerous scandals including the payment of dubious judgment debts to cronies and Ghost Chiefs, the failed STX deal which cost the Ghanaian tax payer $300 Million, the questionable circumstances surrounding the purchase of the Embraer 190 Jets for the Ghana Armed Forces, the Amajero bribery case and the Cuban Government Scholarship saga all point to the fact President Mahama has lost the moral right to lead Ghana.
He disclosed that questions surrounding the under hand dealings of the then Vice President (John Mahama) became so serious that the late President Mills was compelled to set up a three member committee comprising Messrs Hon Wiliam Abor, George Amoah and Brigadier General (Rtd) Allotey to investigate the vice President with respect to the purchase of the Embraer 190 aircraft," If President Mills could not trust John Mahama, why should Ghanaians trust him?" he asked.
Mr Anane-Gyinde condemned the activities of some of the groups affiliated to the President´s campaign team who have been extorting monies from public institutions while blackmailing private business especially those in the mining and insurance industries for refusing to make payment towards President Mahama´s campaign.
He added that such acts are both unethical and illegal because they contravene the Political Parties Act.
Mr Anane-Gyinde accused the NDC government of being reckless and irresponsible in the use of the country´s resources to promote personal and party interest rather than the interest of the larger society. He said the distribution of Hyundai cars to university students across the country bears testimony to this act of recklessness and abuse of incumbency.
The communications director maintained that not only has the Mills-Mahama-Arthur administration failed to fight corruption, it has also demonstrated gross incompetence in terms of good governance and prudent management of the economy adding that the rising cost of living, non-payment of salaries, irregular supply of power, gas and water clearly indicate the abysmal failure of government to live up to its responsibilities.
He reiterated that the only way Ghana can come out of its present predicament is for Ghanaians to vote for the NPP and Nana Akuffo-Addo who have the vision and competence to move the country forward