3 December 2012
|
General News
AGRA, CSIR-STEPRI launch climate change adaptation research project
Ghana|Joy News|Dorcas Efe Mensah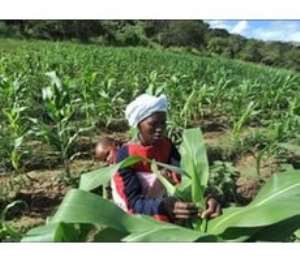 The Alliance for Green Revolution Africa (AGRA), together with the Council for Scientific and Industrial Research and the Science and Technology Policy Research Institute (CSIR-STEPRI) has launched a research project into the impact of climate change on smallholder agricultural productivity in Ghana.
According to AGRA, climate change and weather variability is having negative impacts on agricultural productivity and livelihoods in Ghana but little is done to protect smallholder farmers.
Research indicates that average temperature increases recorded in Ghana over the last 20 years are adversely affecting the production of food such as maize, millet, sorghum, rice, beans and yams.
Dr Nelson Obiri-Prempeh, the National Policy Hub Coordinator, AGRA stated during the launch of the project last Friday that the impact of climate change has been exacerbated due to policy gaps and low level of awareness by stakeholders including government, policy makers and the farmers themselves.
Though government is touted for taking steps to develop two draft policies on climate Change – the National Climate Change Policy Framework (NCCPF) which provides strategic direction for coordinating issues relating to climate change, and seeks to ensure that Ghana pursues a development path that is attuned to climate change; and National Climate Change Adaptation Strategy (NCCAS) which also strives to enhance the country's current and future response to climate change impacts by strengthening its adaptive capacity and improving social and ecosystem resilience – Dr Obiri-Prempeh said these policies do not adequately address the specific vulnerability of smallholder farmers.
Government's strategies, he added, have so far failed to set priorities, interventions and targets to appropriately respond to climate change.
That is why there is "the need for improved inter-sectoral integration in the interest of climate change adaptation," Dr Obiri-Prempeh insisted.
The project entitled: Enhancing the Adaptation of Smallholder Farmers, Especially Women, to Climate Change for Improved Agricultural Production in Ghana, which is expected to last for two years will among other things seek to increase understanding among policy makers in Ghana on the impact of climate change on agricultural productivity in the breadbasket regions of Ghana.
It will also contribute to the development and adoption of policies or their revisions for addressing the impacts of climate on smallholder farmers.
Again, it is expected to enhance understanding of best practices in climate change adaptation and resilience in the breadbasket regions of Ghana, as well as to strengthen capacity of institutions which are part of the Environmental Policy Action Node to advocate for policy changes to reduce the impacts of climate change on smallholder farmers.