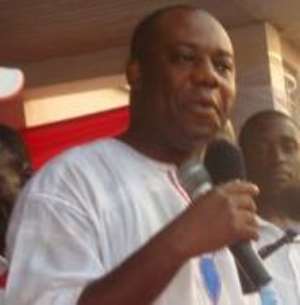 The Member of Parliament (MP) for the Manhyia constituency, Dr. Matthew Opoku
Prempeh, says he would not be moved by the threats and intimidating tactics of
the ruling National Democratic Congress (NDC).
Dr. Opoku Prempeh, popularly known as Dr. Napo, says he is fully aware of a clandestine plan by the ruling party to cause chaos and disturb the polling exercise in the Manhyia constituency on Friday.
He was, however, worried at the twist turn of events, and the alleged attempts by the security and ruling party to paint a gloomy picture to misrepresent the tragic incident that occurred on the day.
The MP, who narrowly escaped a gun shootout on Thursday, after being caught in a cross-fire at KO while embarking on his door-to-door campaign, told The Chronicle that he had Almighty God to thank for surviving the gun battle.
Interestingly, the MP, whose life came under threat and had to be whisked away by loyal supporters who accompanied him on the campaign trail, is currently being treated as a suspect and is on GH¢30,000 self recognisance bail.
"I was on my peaceful door-to-door campaign, and at a moment I heard gun shots; it is only God's grace that I survived," the MP soberly narrated.
Dr. Prempeh, however, did not hesitate to point fingers at political opponents, stressing that he had credible information pointing to alleged plots by some group of people to create chaos and instability within the Manhyia constituency, because it was one of the strongholds of the NPP.
'I am fully aware of everything that transpired at the Regional Coordinating Council (RCC) before the incident; I know about the call from a prominent figure within the National Security to the Coordinating Council, and at the appropriate time, we will make it public,' embittered Dr. Napo revealed
Even though the MP noted that he would fully co-operate with the security agency in its investigations into the incident, he would leave nothing to chance in ensuring the protection of supporters of the NPP.
"If we are in a country where people act with impunity, just because they are in power, and so nothing can happen to them, then where are we going as a nation; that people can decide just to usurp powers and then attack their opponents, and nothing can be done to them, then we are in trouble," he lamented.