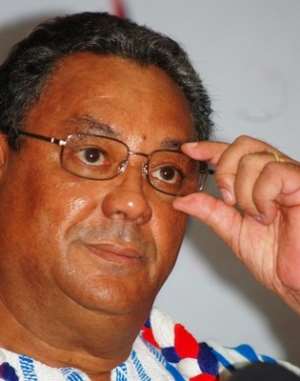 NPP National Chairman, Jake Obetsebi-Lamptey
Supporters of the New Patriotic Party (NPP) are living up to the "All-Die-Be -Die" agenda of their flag bearer Nana Addo Dankwa Akufo-Addo, as they last Sunday attacked and vandalized vehicles belonging to the executives of the Zongo Caucus of the National Democratic Congress
The NPP goons pounced on the NDC operatives when they were returning from a campaign tour of the Western region and damaged their Toyatoa Hillux pick-up with registration number GN 7906 12 out of which the former Member of Parliament for Ablekuma Central, Alhaji Sumaila Bawa and one Moro Farouk, a member of the Zongo Caucus were badly assaulted.
Narrating their ordeal to The Al-Hajj, the National Co-ordinator for the NDC Zongo Caucus, Alhaji Yussif Captain who was also part of the NDC operative who were attacked, said they were returning from a campaign tour of the Western region to Accra t when the unfortunate incident took place.
According to him when they were returning from the Western region and they got to Mankesim, they realized that the NPP flag bearer Nana Akufo-Addo was addressing his party supports in a mini rally. "Because the road we were using was flooded with NPP supporters, our driver had to slow down."
Alhaji Captain added that, immediately the NPP supporters saw that the vehicle they were sitting in was branded in NDC colors, they started shouting 'Ye Be Dii Keke' and violently rushed to their vehicle; banging it with offensive weapons from all angels.
"As they keep banging our car, Alhaji Bawa and Moro Farouk got out of the car to see if they can forestall the situation only for them to be badly beaten. But for a police personnel who came to our rescue, I can't tell what this NPP thugs would have done to us" he added
According to him not even Nana Akufo-Addo or any of the many leading members of the NPP called their supporters to order, adding that two his colleagues who tasted the NPP's 'all-die-be-die' are still in the hospital receiving treatment.
Meanwhile, reports reaching The Al-Hajj, from the Awutu Senya East Constituency, in the Central Region, say that some NPP hoodlums in the Constituency are rolling out their version of the "All-Die-Be-Die'' agenda by defacing the posters of Dr Adams Nuhu, the NDC parliamentary candidate of the Constituency and that of the President, John Dramani Mahama.