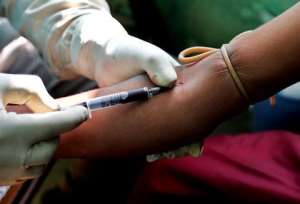 Takoradi, Nov. 21, GNA – Dr Roland Sowah, Western Regional HIV and AIDS Coordinator on Wednesday hinted that Preventing Mother to Child Transmission (PMCT) of HIV and AIDs is yielding considerable results.
He noted that out of the 180 babies screened in the Effia-Nkwanta Hospital for HIV and AIDS, only nine were found to be positive.
Dr Sowah was speaking at a forum organised by the YMCA and Youth Challenge International, a youth advocacy network for second cycle students and Persons Living With HIV and AIDS (PLWHAs) in Takoradi.
The programme, which preceded the National AIDS Day, which falls on November 27, was on the theme: "Accelerating Towards Zero Together."
The objective of the theme is to ensure that by 2015, there would be no HIV and AIDS related deaths, no new infections and no stigmatisation of PLWHAs.
Dr Sowah said the PMCT had achieved remarkable results and brought joy to many families.
He said the new focus is the complete elimination of any form of mother to Child transmission of the virus.
He said the region had moved from the fourth position to the seventh on mother to child transmission which was a positive indicator that the area is on the verge of attaining zero tolerance of the disease by 2015.
Dr Sowah said 40 sites and selected health facilities had also be chosen across the country to carry out HIV and AIDS surveillance every year with focus on pregnant mothers.
He reminded Ghanaians that 80 per cent of the disease is spread through unprotected sex, 15 per cent by mother to child transmission, four per cent by infected blood and blood products and one per cent through sharp objects.
Dr Sowah debunked the misconception that shaking of hands with infected persons, coughing by infected individual, spiting, eating or sleeping with HIV and AIDS patient could make one vulnerable to the disease.
He entreated the public particularly the youth who are deemed sexually active to be mindful of the existence of the disease and lead a clean live.
Mr Frederick Dadzie, Senior Programme Manager of Youth Challenge International said there is the need for the nation to focus attention on the disease in order to achieve the zero together targets by 2015.
He appealed to the President who he said is the top Council member of the AIDS Commission to chip in HIV and AIDS messages in his deliveries and channel lots of resources to the fight the disease.
GNA