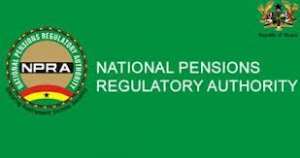 Accra, Nov. 20, GNA – The National Pension Regulatory Authority (NPRA) on Tuesday fixed November 20 - December 3 for collection of provisional statements on workers' five per cent contributions to the mandatory contributions to second tier occupational pension scheme.
The contributions cover a period January 2010 to June 2011.
A statement issued by NPRA in Accra and copied to the Ghana News Agency in Accra said the provisional statements covers contributors of workers under the Controller and Accountant Generals' Department payroll (public sector workers).
"All employers who made contributions on behalf of their staff during that period are encouraged to collect the provisional statements for onward distribution to their staff," NPRA said.
The Authority said the 10- day nationwide distribution period would be done concurrently from 0830 hours to 1230 hours and 1300 hours to 1630 hours daily.
Employers and Institutions are requested to pick up the Provisional Statements through appropriately authorised representative staff (preferably Accountant or Human Resource Officers).
According to NPRA each representative staff will be required to submit an Authority Note from his or her employer or Head of Institution bearing the collecting Officer's name.
In addition, each representative staff must provide any of the following identification; Voters Identity Card, Drivers Licence, Passport, National Identification Card and finally, sign a log book before statements are released to them.
Employers and Institutions who have been paying contributions to the Second Tier Occupational Pension Scheme since January 2010 should endeavour to pick up the Provisional Statements by December 3.
The NPRA has designated agents of Daily Graphic (or Graphic Communications Group) who have been assigned to do the exercise in the 10 regional collection points.
NPRA direct institutions to contact its Corporate Affairs desk on telephone: 0302 968692 or 0302 968693 or through the email: [email protected] or [email protected]
No.
Region
Location (collection point) Time: 8:30am – 12:30pm & 1:00pm – 4:30pm each day
Graphic Designated Agents
Ashanti
Daily Graphic Office, location: Asafo Labour, near the Ghana @50 Roundabouts and opposite the Zion School, Kumasi.
Oscar Tigayie (0244 437642/ 0209 041074/ 0265 13306/ 0276 211516)
Daily Graphic Office, location: adjacent to the Standard Charted Bank, Obuasi
Stephen Amankwah (0277 548862)
Brong Ahafo
Daily Graphic Office, location: the Cocoa House building, Sunyani
Charles Bampoh (0278 866304 / 0244 216609/ 0261155281)
Central
Daily Graphic Office, Location: Main Ghana Commercial Bank, Annex Building, Cape Coast
Joseph Sampson (0208 224934)
Eastern
Daily Graphic Office, Location: adjacent to the SIC Office (Tema-House), Koforidua
Catherine Ablorh (0272 337952/ 0261 506157)
Greater Accra
G-PAK LIMITED (Main Sub. of Graphic Communications Group Ltd., Daily Graphic Office, Location: No. 3 Graphic Road, Accra
Martha Amoako (0272 423300 / 0302 670520 / 0302 665209)
Daily Graphic Office, Location: 2nd floor of the Kristal Plaza Building near the Evergreen Supermarket, Community 4, Tema/Teshie Nungua
Eugenia Maccready (0303-910000)
Northern
Daily Graphic Office, Location: the 3rd Floor of Ghana Commercial Bank building, Opposite STC Yard, Tamale
Karimu Ali (0244 407468 / 0205589554)
Upper East
Daily Graphic Office, Location: the 2nd Floor of Ghana Commercial Bank Building, Bolgatanga
George FI. Arthur (0205 597980)
Upper West
Daily Graphic Office, Location: the Ministries Building, Block B, Wa
Judith Suglor (0201 846932)
Volta
Daily Graphic Office, Location: Ministries, opposite to the High Court Building, Ho
Charles Mensah (0244 110367)
Western
Daily Graphic Office, Location: on the Market Circle Liberation Road, Takoradi
Roland Sampson (0312-023013)
GNA