MOGO Returns In Festive Style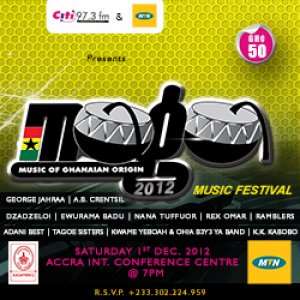 The Music of Ghanaian Origin (MOGO), arguably Ghana's most authentic highlife musical celebration event, is set to thrill its numerous patrons once again with a parade of some of the nation's celebrated highlife musicians.
The event, organized by 97.3 Citi FM, is scheduled to take place on Saturday, December 1st, 2012 at the Accra International Conference Centre at 7 pm prompt.
Highlife has for centuries served the people of the Ghana and the world with a healthy serving of great music with its feet-moving style and melodies.
From individual homes, to families, neighbourhoods, through to the nooks and crannies of the both rural and urban Ghana, highlife is a phenomenon that tears the tribal partition and gives true meaning to African unity.
It appeals to the poor and the rich, the uneducated and the elite alike. Highlife music over a pot of palm wine is enough to stir the dancing instincts of an entire village while in the cities, an 'Omo Tuo' joint on Sundays is never complete without the ever-refreshing sound of a Ghanaian highlife melody.
The '80s introduced an even more exciting form of the music called 'burger highlife.'
To celebrate and to the keep the spirit of this renowned music genre alive, Citi 97.3 FM has for the past seven years succeeded in leading Ghanaians to relive the past and inspire the future with the MOGO concert.
MOGO is an annual Ghanaian musical concert, which brings together families, corporate institutions, individuals and lovers of highlife to celebrate genuine Ghanaian live band music.
It features some of the world-renowned and most successful Ghanaian musicians, who perform live to over two thousand music enthusiasts annually.
Over the past seven years, MOGO has featured artistes such as the legendary Osibisa Band, Lee Duodu, Paapa Yankson, Abrantie Amakye Dede, A.B Crentsil, Gyedu Blay Ambolley, Ben Brako, Asabea Cropper, Paulina Oduro, Bessa Simons,and George Darko among others.
This year's event promises to be one of a kind, with a blend of legends in the industry.
On the bill for the night will be the evergreen Ramblers International Band, the energetic KK Kabobo, the crowd puller Adane Best, AB Crentsil, Rex Omar, Ewurama Badu, Nana Tuffour, Dzadzeloi, George Jahraa, the sensational Tagoe Sisters and Kwame Yeboah and the Ohia b3y3 ya Band.
Tickets are being sold for GHC 50 at MTN offices in Osu and the Accra Mall. They're also available at Hotel Joe Carl, Comm. 6 Tema and at 97.3 Citi FM, Adabraka.
This year's MOGO concert is sponsored by MTN and Alomo Bitters - Authentic African Herbal bitters.
Media partners for this event are TV Africa, TV3, Viasat 1, eTV, Oman FM, HOT FM, Happy FM BnFT, Weekend Globe and citifmonline.com.
MOGO: celebrating the past, inspiring the future…