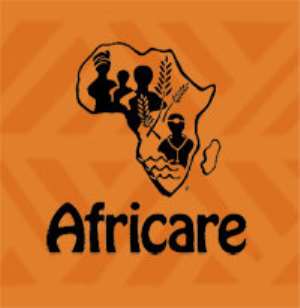 "Across Africa it is the small entrepreneurs and businesses that drive community livelihoods and national economic development.
...Yet without adequate financing or access to buyers, producers associations are not able to sell their products to increase their incomes and bolster their livelihoods. Furthermore without knowledge of the markets, they are unable to secure the inputs and technology needed to increase production," explains Gwen Young Senegal Country Director, for Africare, who will be presenting Africare's vision at this year's AgriBusiness Forum taking place in Dakar, Senegal from 25-28 November 2012.
Focused on establishing strategies that improve livelihoods with cohesive policies and long-lasting results, Africare's message will underline the role of investments, technologies and services and the importance for these to be designed considering the needs of small-scale farmers, particularly women, and delivered to small-scale farmers, not simply to large agribusinesses.
Africare, in addition to other civil society representatives, will offer a detailed approach as to what the future holds for Africa's agricultural sector.
The pan-African forum entitled 'Boosting African Agriculture through Partnership, Investment and Technology', will provide a platform for civil society to present its views alongside Prime Ministers, politicians and local and international business leaders as well as chambers of commerce from across Africa, Europe, Asia and America.
Specific issues linked to all parts of the value chain as well as the barriers constraining farming communities will also be highlighted.
Young adds that, "Producers need a clear market and demand before they can make firm investments in increasing income. They also need new technologies such as drip irrigation and water pumps, which allow them to spend more time on downstream value-chain activities such as marketing and processing their goods."
The international organization will also use the pan-African AgriBusiness Forum as a mean to showcase partners, supporting the participations of six small enterprises to demonstrate both the innovative work being done at the community level as well as the financial, technological and service needs of small enterprises in Senegal.
Opened by the H.E. President, Macky Sall, the forum is co-organised by EMRC, UNDP, co-organiser of the AgriBusiness Forum 2011 in Johannesburg and PanAAC and will take place in collaboration with FAO, the Rabobank Foundation, the Forum for Agricultural Research in Africa (FARA), UniBRAIN, Nigeria's Kwara State, Africare, Syngenta Foundation, USAID and Amiran Kenya.
To guarantee an environment conducive to launching new business projects, the forum will be accompanied by an Exhibition and B2B sessions. This year's forum will also highlight youth & agriculture with innovative and ground-breaking projects during the internationally recognised Project Incubator Award, sponsored by the Rabobank Foundation, which will spotlight four leading innovative businesses with the winner taking home a cash prize of US$15,000.