November 15, 2012
|
Diaspora (UK & Ireland)
John Mensah Honoured By GUBA Awards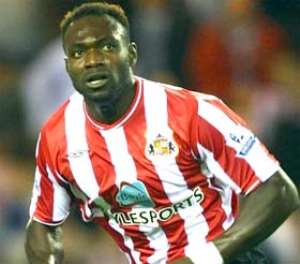 Footballer John Mensah has received an award for his sporting achievements at an international awards ceremony celebrating achievements within the British Ghanaian community.
The Ghanaian defender and former Sunderland player was one of 22 leading figures and organisations within the British African community to be honoured at the annual Ghana UK Based Achievement (GUBA) Awards Ceremony in London.
Awards also went to fashion brand Anita Quansah London, model Philomena Kwao and Kenya-based media mogul Patrick Quarcoo amongst others.
GUBA founder and British-based Ghanaian TV star Dentaa Amoateng said the event, now in its third year, was "a night to remember".
She said: "GUBA 2012 was a sell-out event and a spectacular night to remember for all concerned.
"It was a joy to honour the achievements of so many fantastic individuals and groups. They, and all our nominees, prove just how much British Ghanaians contribute to society."
Dubbed 'The GHoscars', GUBA recognises the "hugely significant" contribution that British-Ghanaians make to society in the business and commerce, professional, sports and entertainment sectors.
Since the first awards ceremony in 2010, GUBA has received the backing of figures such as Cherie Blair, FIFA President Sepp Blatter and Lord Paul Boateng — the UK's first black Cabinet Minister — as well as The Ghana High Commission, British High Commission in Ghana and Ghana Ministry of Tourism for its role in promoting Ghana and Ghanaian achievements in the UK.
Special guests at this year's GUBA Awards — which took place on November 10 at the Park Plaza Riverbank Hotel in central London — included Diane Abbott MP, British High Commissioner to Ghana Peter Jones, England and QPR footballer Anton Ferdinand, Olympic 400m silver medallist Christine Ohuruogu, Miss Ghana Esther Titi-Lartey, Ghanaian musician Asem, comedian Eddie Kadi and Holby City actors Jimmy Akingbola and GUBA patron Hugh Quarshie.
For 2012, categories in the GUBA Awards were divided into four sections representing the Ghanaian Flag: Red (Business & Enterprise); Gold (Popular Culture); Green (Community) and Black Star (Recognition Awards).
The winners were decided by a panel of judges and public vote, with over 20,000 votes being cast in total.
Recipients in the Business & Enterprise section were London-based commodities firm Armajaro Trading, which received the Ghana High Commission Award for Best Corporate Business, solicitor John Blavo of Blavo & Co, who picked up the award for Best Professional, and Gloria Buckman Yankson of events company Plan It Ghana, who scooped the Efie Ne Fie (Home is Home) award.
In the Popular Culture section jewellery designer Anita Quansah of Anita Quansah London received the award for Best African Fusion Designer, British novelist Dorothy Koomson was named Best Creative Writer, rising Afro Beats artist Mista Silva was given the award for Best Emerging Music Act and website My Joy Online took the award for Best Online Media.
In the Community section, Akwaaba and Active Promotions won the award for Best Ghanaian Event with Ghana Party in the Park, the WAM (What About Me) Campaign was named Best Charity Organisation, plus-size model Philomena Kwao received the Rising Stars Award, James Annan of Ghana children's rights group Challenging Height received the GUBA Humanitarian award and GUBA Community Champion was Lorraine Wright.
There were ten awards in the Recognition section, with Oxford student Gillian Appau being named Best Student Achiever, Patrick Quarcoo receiving the International Recognition Award and Dr Mike Adenuga, CEO of Globacom, taking the Inspirational African Award.
Special Achievement Awards were given to Sir Sam Jonah, the Executive Chairman of Jonah Capital, investment broker Sam Ankrah, entrepreneur and owner of RLG Roland Agambire, Dennis Tawiah of AKWAABA Promotions and Eliza-Joy Agyemang Duah, a 6 year old author of two internationally published children's books.
John Mensah received the Sporting Achievement award and Arthur Wharton – the first professional black football player and the world 100 yard record holder — received the Posthumous Lifetime Achievement Award.
"GUBA 2012 has come so far in the last three years and it makes me proud to have earned the support of well-known figures such as Diane Abbott MP and Cherie Blair as well as the backing of the Ghanaian community", added Amoateng.
"Though the ceremony is now over for this year, GUBA will continue to work hard flying the flag for British Ghanains and Ghana."
Britain's economic, political and cultural links with Ghana date back to before its independence in 1957.
Previous GUBA winners include former Sunderland FC striker Asamoah Gyan, the UK's first black Cabinet Minister and Labour politician Lord Paul Boateng, and Leticia Obeng — Ghana's first female scientist.