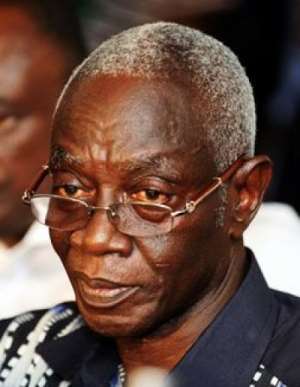 Dr. Kwadwo Afari-Gyan, Chairman of the Electoral Commission of Ghana
The Chairman of the Electoral Commission, Dr. Kwadwo Afari Gyan has given the strongest indication yet that proxy voting would be allowed during the December polls.
The Chairman of the EC, made the assertion during an interaction with senior journalists at the Editors' Forum.
According to Dr. Afari Gyan the EC initially had written off proxy voting because of the biometric voting. He however conceded that after careful consideration they [Electoral Commission] had devised a means to allow for proxy voting.
Proxy voting is when an eligible voter assigns or delegates someone to vote on his behalf when he or she for some reason(s) was unable to be present for such an exercise.
With this, eligible voters wanting to make such a demand have to notify the EC about their intention, failure of which the application would not be granted.
The provision of proxy and transfer of votes in the upcoming general elections has a legal backing.