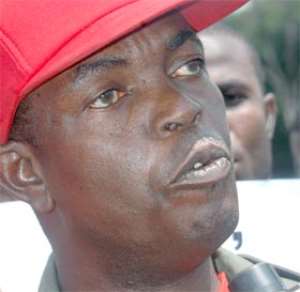 Editor of the "Insight" newspaper, Kwesi Pratt Jnr., strongly believes that the General Overseer of the International Central Gospel Church (ICGC), Pastor Mensa Otabil, by describing members of the National Democratic Congress (NDC) as evil and Machiavellian, has 'positioned himself in the political arena' and opened himself up to be flayed.
According to him, the decision by the ICGC founder to hold a press conference and somewhat clarify matters, is the reason why he is being flaked ceaselessly in the media.
Mr Pratt adds that Pastor Otabil deserves his comeuppance for using unsavoury words against some members of the the ruling party.
The ICGC General Overseer pleaded earnestly with President John Mahama at a press conference held on Monday, to rein in "surrogates" whom he claimed had twisted his messages for political gain.
He was setting the records straight on his alleged condemnation of Nana Akufo Addo's free Senior High School education policy as well as the 'all die be die' mantra.
He accused the surrogates of piecing together separate messages he had preached in the past to make it appear as though he was ridiculing the free SHS policy being preached by the opposition NPP.
"My voice and sermons have been sampled, spliced and manipulated to appear to take a political position on a very heated political issue….Let me state clearly that the sound bites that have been played with my voice have been taken totally out of context…This is defamatory. It is unethical. It is criminal. It is malicious. It is Machiavellian and it is evil," the livid pastor stated.
But speaking as a panelist on Peace FM's morning show 'Kokrokoo', Kwesi Pratt held the view that Pastor Otabil should have taken advantage of the press conference to state his stance on the issue of free education instead of scurrying away from the subject.
"If he hadn't organized the press conference, I think it would have helped. I have listened to the tape and I can say that there is no doctoring on that tape…everything on the tape flows perfectly and so there is no doctoring on the tape and he knows it…To go to the extent of referring to some political party members as evil, mischievous and so on, he has now made himself more political than the politicians…he has now positioned himself in the political arena firmly. I feel sad for him. He shouldn't have gotten to this level…" Kwesi Pratt said.
He marveled why the man of God would expect the public to seek his go-ahead before quoting him or using his works after making his tapes commercially available.
"Meanwhile his sermons are to help shape our lives and politics is part of our life; and so if a politician quotes him, is it wrong? If it is wrong then why is he wasting his time delivering those sermons? I don't understand him…" he added.