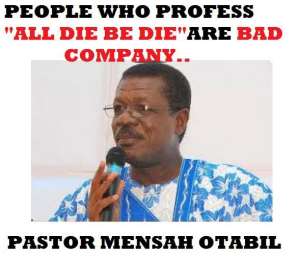 'They believe that the action is good by itself because after all, all die be die.
For those of you who are not familiar with Pidgin English that means all death is death.
All die be die
After all six feet at last. After all we will die and leave here.
People who talk like that are bad company.
Oh yes! (Roaring laughter amidst thunderous clapping of hands from congregation)
People who talk like that, the Bible says, they say; 'let's eat and drink for tomorrow we die.'
And it says for such people, be careful of them because bad company will destroy all the good habits you have'..
This is contained in a tape supposedly attributed to the man of God.
Do you believe it the man of God will say this?