Asantehene Directs Reinstatement of Twumduase Chief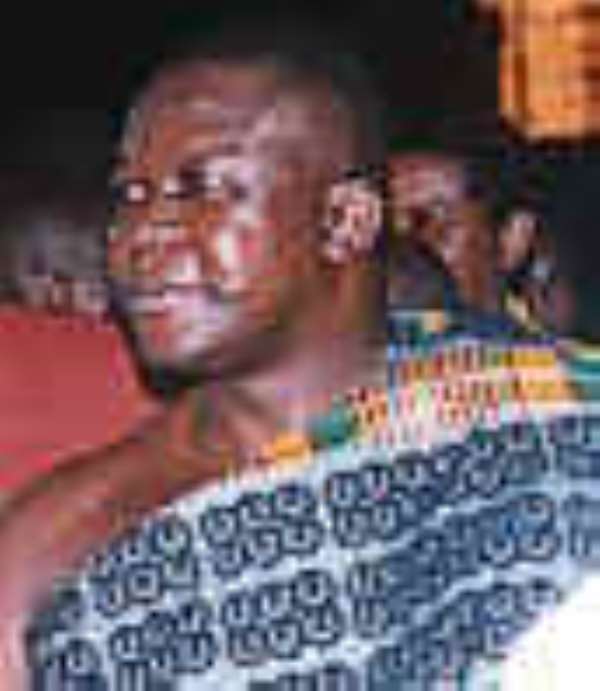 The Asantehene, Otumfuo Osei Tutu I, has directed the reinstatement of Nana Twum Barimah, as chief of Twumaduase, near Kumasi.
The directive follows a court ruling which declared the chief innocent in respect of a case in which the chief was alleged to have looted graves four years ago when the Asantehene ordered the Twumduase chief never to hold himself as such until the final determination of the case.
In line with tradition, Nana Twum Barimah had had to re-swear the oath of allegiance to his overlord, Barimah Osei Kwadwo II, Asantehene's Mmensenhene, at his palace in Kumasi last Thursday.
Conspicuously absent at the swearing ceremony was Opanin Kwabena Owusu, Abusuapanin of Twumduase, who levelled the allegations against the Twumduasehene.
His absence, notwithstanding, the Mmensehene gave the go-ahead for the Twumduasehene to swear the oath to him.
The Mmensenhene, taking his turn to advise the reinstated chief, stressed on the need for the chief to forget the past and strive to foster unity of purpose among his people.
"You should strive and see yourselves as one family and work together in unity and harmony," he advised.
Nana Twum Barimah pledged to be transparent and evolve strategies that will bring peace to the community as well as facilitate the orderly development of the area.
He was nominated and enstooled chief of Twumduase, near the Kwame Nkrumah University of Science and Technology (KNUST) in November 1995, but he was alleged to have looted the graves of some ancestors in April 1999.
As a result, the Asantehene ordered that the chief should not exercise the functions of a chief until the final determination of the case.