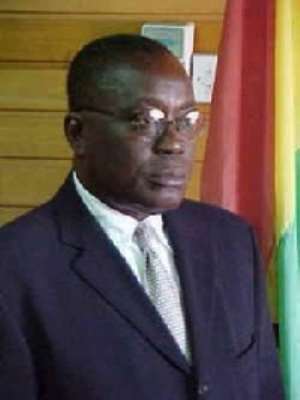 Nearly a year ago, I read the news item on the internet that Nana Akufo Addo never attended Oxford University here in the UK. It was entitled,"Where is Nana Addo's Oxford University record? Felix Kwakye quizzes" written by by Adwoa Gyasiwaa on Thursday December 8, 2011. According to the report "a member of the NDC Communication Team, Mr Felix Kwakye Ofosu had questioned the motive behind Nana Akufo-Addo's exclusion of his academic credential at Oxford University from his Curriculum Vitae (CV) and challenged the NPP to prove that their flag-bearer, Nana Akufo-Addo was a student of the Oxford University. Felix Kwakye Ofosu could not fathom why the NPP flag-bearer would hide the fact that he attended a high profile university like Oxford and also exclude it from his CV". This was on Asempa FM's Ekosii Sen programme.
It was also reported that Mr James Kwabena Bomfe who was a co-panelist on the programme, said Felix Kwakye Ofosu "has goofed big time and revealed that Nana Akufo-Addo was never a student at Oxford University as it is being alleged. For a fact Nana Addo never went to Oxford; he never got admission or applied to go to Oxford. It is his father who went to Oxford". Kabila as Bomfe is popularly called, said that the NPP flag-bearer has refused to comment on the issue because he (Nana) is treating it with the contempt it deserves. The aspiring Member of Parliament for Kintampo North noted that Nana Akufo-Addo is concentrating on his campaign hence would not honour NDC's mischief ahead of the 2012 general elections".
The above report prompted me to read Nana Akufo Addo's profile. Lo and behold, though Nana Akufo Addo made mention of his primary school in Ghana and the secondary (high) school he attended (Lancing College in Sussex in the UK), there is no mention of Oxford University. I therefore decided to find out the truth for myself, so I contacted Oxford University for the answer. At that time I did not consider Mr James Kwabena Bomfe's response relevant since he is not a member of NPP and could not have made those statements attributed to him on behalf of Nana Akufo Addo.
Though Oxford University responded to my request as far back as May 2012, I have not considered it importants to make them public until now. I was surprised to hear Nana Akufo Addo introduce himself at the first Presidential debate in Tamale and omit Oxford from the schools and universities he attended.
I must admit that I myself do not indicate all the schools I have attended on my CV. For example, the education section begins with the two secondary schools I attended for a three-page CV but they do not appear on my two-page CV since there is not enough space. However, if I am given the opportunity to introduce myself at a public gathering and I begin with my primary school, I will definitely mention all post primary schools and universities, especially those in the UK. Oxford is no ordinary university to be ignored by no other person than Nana Akufo Addo, the presidential candidate of the main opposition party, NPP. So did he attend Oxford Univresity?
I can confirm on authority that, I submitted Freedom of Information Request (FOI) to Oxford University in January 2012 asking the university to confirm if Mr William Addo Dankwa Akufo Addo also known as Nana Akufo Addo was a student at the university. The university in a reply dated 27 January 2012 (Ref. FOI/2012/Jan), stated as follows: "We have searched our records and the only published information that falls within the scope of your request is that Mr William Addo Dankwa AKUFO-ADDO was a member of the University (and of New College) during the 1962/63 academic year".
I asked other questions such as the course he offered but the University refused to answer those questions and stated as follows: "The Freedom of Information Act (FOIA) provides an exemption for the personal data of third parties (i.e. a person other than the requester), where disclosure would breach any of the data protection principles in Schedule 1 to the Data Protection Act 1998. The only circumstance in which we disclose the personal data of a former student is when we have already published it in a University publication, such as the University Calendar, (because it is then unlikely that disclosure under FOIA would breach any of the data protection principles)".
As required under the Freedom of Information Act (FOIA), I asked the university to review their earlier decision not to answer the rest of my questions. The University reviewed the decision and came to the same conclusion in a letter to me dated February 27 2012, signed by a Professor. I disagreed with the reasons offered by university so I took the matter to the Information Commissioner, who agreed with me that my request met the public interest test and ordered the university to respond fully to my request.
After a series of exchange of correspondence (letters and e-mails) with the university, the world renowned university confirmed that Nana Akufo Addo studied Philosophy, Politics and Economics but they have no records whether Nana Akufo Addo completed the 1962/63 academic year or passed all his examinations. Though I had doubt the university's claims that they do not have records on the two questions I posed, I decided to let matters rest since I had accomplished my mission by establishing that Nana Akufo Addo attended Oxford.
The question is, why did Nana Akufo Addo leave Oxford University to study at University of Ghana (with no disrespect to Ghana's top university)? Why is he proud to say that he attended high school at Lancing College, Sussex in the UK but hides the fact that he was at Oxford University?
Nana Akufo Addo comes from a wealthy family and therefore his unexplained departure or disappearance from Oxford could not have been financial. Perhaps, as a young man, he was home sick so he decided to go back to Ghana after high school in the UK.
I doubt if the then young man was home sick because he is from the Busia-Danquah tradition that have some connection with Oxford University and therefore Nana Akufo Addo would have done anything and everything possible to have graduated from Oxford. For example, the late Dr Kofi Abrefa Busia, Prime Minsiter of the Second Republic was an Oxford educated scholar, Ex-President Kufuor, second President of the Fourth Republic is an Oxford Alumnus and Dr Mumuni Bawumia (Nana Akufo Addo's running mate) is also Oxford educated. Is it not interesting that Nana Akufo Addo hides his connection (even if it was brief) with Oxford University?
I am still trying to find out why Nana Akufo Addo disappeared from Oxford and why he avoids the fact that he was a student at Oxford, but in the mean time, I challenge Nana Akufo Addo to confirm or deny that he was a student at Oxford. I also challenge him to tell Ghanaians why he left Oxford before I make it public. Nana Akufo Addo is a potential President of Ghana and Ghanaians have the right to know about his past. I have e-mails and letters from Oxford University and the Office of Information Commissioner here in the UK to prove what I am saying. If Nana Akufo Addo or Oxford University dispute the contents of this article, let them say so and I will provide copies of correspondence to them.
These are not allegations and I did not make them up. It took me nearly five months to establish these facts. I did not fabricate them and I have documentary evidence to support them. I also made Oxford University aware that I post articles on Ghanaian media websites and would make public whatever information they provide to me in response to my FOI request.
Will Nana Akufo Addo or NPP take up my challenge? There are too many unanswered questions about Nana Akufo Addo. Can he be trusted?
Kofi Ata, Cambridge, UK