Another Grand Money Laundering Scandal Hits HSBC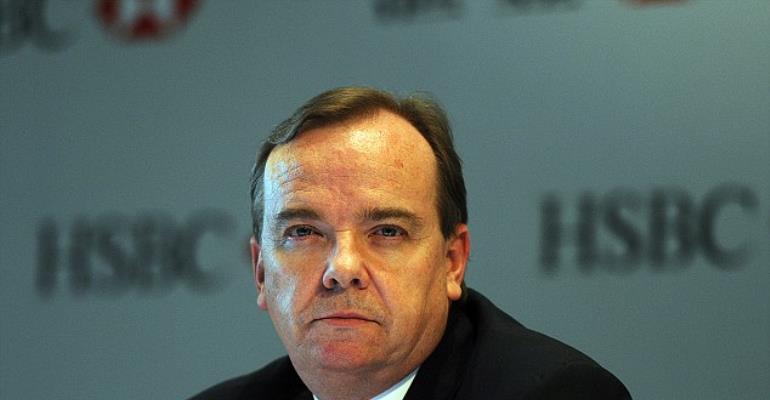 Britain's biggest bank has been dragged into yet another scandal after it was accused of opening accounts in Jersey for criminals including drug dealers and gun runners - helping customers launder money and evade tax in Britain.
HSBC is being investigated by HM Revenue and Customs after a whistle-blower handed it the names, addresses and balances of every person the banking giant has helped place money on the Channel Island.
On that list is believed to be drug dealer Daniel Bayes who is now in Venezuela after he abandoned his £500,000 cannabis farm in Sussex; Michael Lee, who was found to have 300 guns in his Devon home, three bankers on fraud charges and a man named Britain's 'number two computer crook'.
A total of £699m is being held in these 4,388 accounts in Jersey with one investor holding £6million and the average balance is £337,000.
People from all over Britain have invested via HSBC in this way, including taxi drivers and greengrocers as well as celebrities, while some others on the list are either wanted by police or have serious criminal convictions.
British residents and citizens can squeeze the amount of tax they pay but have to tell HMRC about the cash they hold offshore meanwhile banks must vet who is banking with them and where their money is from.
It comes just months after HSBC was humiliated because it allowed rogue states and drugs cartels to launder billions of pounds through its branches.
It was accused by the U.S. government of fostering such a 'polluted' culture it became a conduit for criminal enterprises and faces $1.5billion in fines.
Now British officials are trawling through the latest list of names handed to them as hundreds have probably been evading tax, a Daily Telegraph investigation found.
'We can confirm we have received the data and we are studying it. We receive information from a very wide range of sources which we use to ensure the tax rules are being respected,' an HMRC spokesman said.
'Clamping down on those who try to cheat the system through evading taxes and over claiming benefits is a top priority for us and we value the information we receive from the public and business community.'
Tax authorities around the world are stepping up their efforts to uncover the identities of those who avoid taxes by hiding their wealth in offshore accounts.
HSBC is easily Britain's biggest bank and the world's second biggest, but has declined to comment on the damning Jersey list.
'HSBC has a duty of confidentiality and cannot comment on clients even to confirm or deny they are clients. We have good relationships with our regulators and co-operate with investigations when required to do so,' a spokesman said.
Last week a Greek magazine published the names of more than 2,000 of HSBC's Swiss account holders.
The Greek names came from the so-called Lagarde List, named after IMF head Christian Lagarde, who first distributed the list to Greece and other EU states in 2010 when she was French finance minister.
In July a top executive at the bank sensationally quit in front of a US Senate hearing that exposed the scale of the scandal.
HSBC had been one of the few UK banks to survive the financial crisis with its reputation intact.
But a devastating 335-page Senate report accused HSBC of ignoring warnings and breaching safeguards that should have stopped the laundering of money from Mexico, Iran and Syria.
The bank failed to monitor a staggering £38trillion of money moving across borders from places that could have posed a risk, including the Cayman Islands and Switzerland. The failures stretched to dealings with Saudi Arabian bank Al Rajhi, which was linked to the financing of terrorism following 9/11.
HSBC's American arm, HBUS, initially severed all ties with Al Rajhi. But it later agreed to supply the Saudi bank with US banknotes after it threatened to pull all of its business with HSBC worldwide.
According to the report, HBUS also accepted £9.6billion in cash over two years from subsidiaries without checking where the money came from.
In one instance, Mexican and US authorities warned HSBC that £4.5billion sent to the US from its Mexican subsidiary 'could reach that volume only if they included illegal drug proceeds'.
Concerns over the bank's links to Mexican drug dealers included £1.3billion stashed in accounts in the Cayman Islands. One HSBC compliance officer admitted the accounts were misused by 'organised crime'.
London-based banker David Bagley, head of HSBC's compliance division, which is meant to prevent breaches of the law, quit in front of the Senate committee. He had been with the bank for 20 years.
The affair was also an embarrassment for David Cameron, because his trade envoy Stephen Green chaired HSBC during the period covered by the allegations.