Reject John Mahama and His NDC to Avoid Bloodshed - Katakyie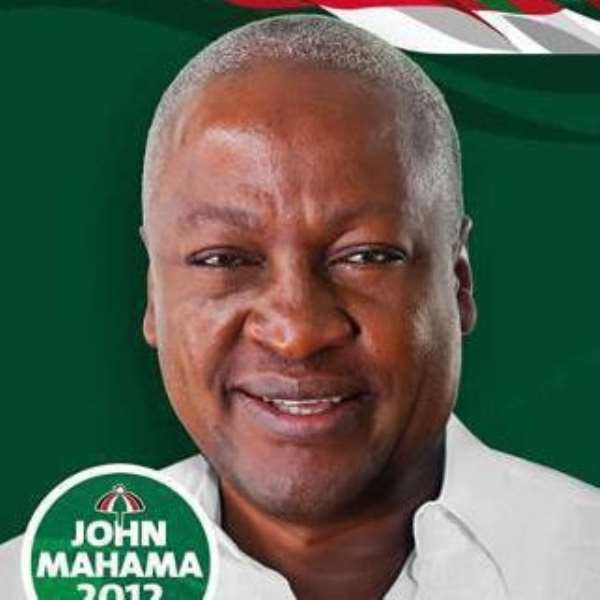 The Founder of the NDC, J.J. Rawlings overthrew the Limann-led PNC government in 1981. He metamorphosed into a democratic leader in 1992. His Excellency, John Agyekum Kufuor is the only Ghanaian leader to have become president through democratic means, served two-terms, and left government in the same way. The rest were either overthrown, died in the process, or took over in a caretaker role.
Readers would agree with me that ever since this monstrous party (NDC) unfortunately came into power in January 2009, not a day or a week passes without hearing cases of assault, intimidation, threat to kill and serial killings, gunshots, suicides, not forgetting other disasters like floods, buildings, and plane crashes. Others include fire and cholera outbreaks, mining disasters and motor accidents in all parts of the country thus posing a serious threat to our fundamental human rights to life, liberty and security.
Sensing that their sickly Presidential Candidate, John Atta Mills could not survive before December 2012, John Mahama and his collaborators forced him to engage in Azonto dance in a scorching sun and later 'poisoned' him to pave way for John Mahama to lead the party in this year's elections. They are so hungry for power that the NDC could do anything to either win or retain power. It is very surprising to note that documented evidence of harassment and atrocities committed against NPP members and sympathizers across the country have gone un-investigated or un-prosecuted.
Below are a few examples of such documented incidents.
On the heat of the 2008 general elections, the then thrice defeated presidential candidate of the NDC, Prof. John Mills threatened to BURN Ghana like Kenya should his party be denied victory in the general elections.
The NDC members and their supporters took weapons of all kinds to the Electoral Commission's Office in Accra in 2008 to demand electoral victory for their Candidate.
In September 2008, an NPP rally was disrupted by gunfire, forcing the party's vice presidential candidate Dr. Mahamadu Bawumia to flee.
Then on the Election Day (07/12/08), there were several reports of voter intimidation and election irregularities in Volta Region. Dr. Sammy Ohene, an NPP polling agent was subjected to an inhuman treatment at Dedeho in Ho West constituency. A group of between 10 and 15 people set upon him, kicked him, and others took planks and sticks and stones and beat him up like a thief. When the blood started spurting from his face, one of them said let's finish him off. This wicked action was condoned and connived by the presiding officer, Mr. Ankude and the chief inspector Attisogbui. As I write today, Dr. Ohene has lost his right eye.
In January 2009, His Excellency J.A. Kufuor had his office and cars seized. This was followed by Nana Akufo-Addo, Dr. Bawumia and other former government officials.
On the 8th of August, 2009 in Osu, Accra, police shot the 18 year old son of a former Member of Parliament in the leg outside a night club as he was leaving the venue with friends. Sadly, two hospitals denied him medical attention because he didn't possess a police report.
On Tuesday August 28, 2009, some NDC activists who call themselves "Taliban Boys" butchered to death three NPP members whilst others sustained varying degrees of injury. Not even a Press Conference by the Minority to release names of seven persons responsible for this heinous crime on September 25, 2009 could compel the police to effect any single arrest.
In the same August, Mainoo was beaten to death by NDC thugs after taking part in a demonstration against the unlawful detention by the BNI of Mr. Asamoah Boateng, former Minister of Information.
On August 5, 2009, police arrested and detained the regional editor of Metro TV, after he entered a courtroom to witness a rape case. In the same month, two NPP men were killed at Kokomba Yam market in Agbobloshie, Accra.
On September 17, 2009, police briefly closed an independent radio station in the Northern Region owned by former vice-president, Alhaji Aliu Mahama. The regional police commander ordered the police to close the station and the staff were arrested and detained for several hours.
On April 11, 2009, an Upper East Regional correspondent of The Chronicle was assaulted by supporters of the NDC for photographing party activity. His camera was also destroyed.
On May 28, 2009, a group of NDC supporters besieged a privately-owned FM radio station in the Brong-Ahafo region, attacking three persons and vandalising the station.
In August 2009, the Deputy Regional Minister of Brong-Ahafo, Eric Opoku condoned and connived a serious crime by hiding a murderer under his bed.
On September 29, 2009 several NPP members and sympathizers sustained various degrees of injuries by NDC activists as a result of the by-election in the Chereponi constituency in the Northern Region.
In the same year, the Deputy Minister of the Eastern Region, Baba Jamal declared Jihad (Holy War) in the Akwatia constituency in his quest to win the parliament seat when he knew clearly that he was fighting a losing battle.
In November 2009, a video clip and still photos were released to the media depicting military personnel in Bawku interrogating and abusing two naked civilian suspects who happened to be professional teachers. Still photos showed a soldier kicking a suspect and placing the tip of his gun in the suspect's mouth. They were later made to parade the principal streets naked and in front of their school children.
On January 6, 2010, the then Ashanti Regional Minister – Kofi Opoku-Manu urged NDC supporters to resort to violence during a speech to his party supporters in Kumasi. Should any opposition member dare criticize the NDC government, "slap him if you can do so" are the exact words from that 70-year old blockhead.
In February this 2010, 27 houses belonging to NPP sympathizers were completely burnt down by NDC activists in Tamale during a clash between the two parties' sympathizers. As of now not a single arrest has been made.
On February 6, 2010, another thickhead who is alleged to have been infected with HIV, Afrifa Yamoah Ponkoh , the MCE of Ejisu-Juaben violently attacked Lawyer K. Owusu Afriyie aka 'Sir John', then a contender in the NPP General Secretaryship during a political discussion on the studios of Hello FM in Kumasi. He pulled a chair and tried to smash it on Sir John until he was restrained by the other panelists.
On February 18, 2010, Nana Darkwa, an NPP activist was arrested by the police led by Kofi Adams – the sacked deputy general secretary of the NDC and an aide to J.J. Rawlings. Nana was subsequently prosecuted on charges for publishing news with the intent of causing fear and panic in violation of the Criminal Act 208.
On March 22, 2010, the NDC youth at Sankore in the Asunafo South of Brong – Ahafo Region attacked the NPP youth with cutlasses, sticks and other offensive implements without any provocation leaving three people with severe injuries.
On April 10, this 2010, 30 persons including the caretaker of the Abudugate, a vice – chairman of Yendi constituency, a former DCE of Yendi in the Kufour administration were arrested at dawn by the police in connection with the murder of Overlord of Dagbon, Ya-Na.
On May 24, 2010, the Buffalo Unit of the police service in Kumasi picked Alexander Adu-Gyamfi, also an NPP activist for allegedly describing the face of the late John Mills as similar to that of a big 'Chimpanzee'.
On June 27, 2010, Bashiru Mohammed aka 'Red', another NPP activist was apprehended at the Kotoka International Airport by BNI officials on his way from South Africa and was prosecuted at a court in Tamale for possessing firearm without lawful authority and offensive conduct in 2004.
On Thursday July 27, 2010, two NPP supporters were severely beaten with sticks and metal bars by NDC thugs for reporting to the police that an NDC co-ordinator in Akyem Begoro in the Eastern Region was carting illegal timber.
In 2010, leading members of the NPP – Messrs Mpiani, Sammy Crabbe, Osei Adjei, Dr. Wireko Brobbey, Dr, Anane have been hounded to the court charged for willfully causing financial loss to the state.
In September 2010, the National Women's Organiser of the NDC, Anita De-Sousa run her vehicle into a group of young people at Abomasu during the Atiwa by-elections. Several people were injured in the process.
Since 2009, many employees of the NHIS, NYEP, SFP, Metro Mass etc alleged to be sympathetic to the NPP have been dismissed by NDC 'fool' soldiers.
In 2011, a special fund known as 'Heroes Fund' was set up by the NDC to award victims of electoral violence in the 2012 general elections.
In the same year, 5 Military Jets valued at $250m were purchased by the NDC government to 'intimidate' voters in the upcoming elections.
On 6th March 2012, a Special Forces Unit of the Ghana Armed Forces was unveiled at the Accra Sports stadium to intimidate voters. The soldiers had their faces painted black.
The new biometric registration exercise that took place between March 2012 and May 2012 was characterised by violence.
Since 2009, all the security agencies – National Security, Police, CEPS, BNI, EOCO, and the Immigration Services have been filled with NDC members and sympathisers. (Courtesy, Yaw Boateng Gyan's secret tape).
In August 2012, the National Organiser of the NDC, Yaw Boateng Gyan was caught on tape planning to plunge the country into war.
In April 2012, Hon. Ken. Ohene Agyapong was arrested for 'genocide' when he called on NPP sympathisers to be up and doing in retaliation to Nii Lamptey Vandaerpuije's anti-Akan posture.
In the same month, the Caretaker President, John Dramani Mahama assured Ghanaians that a number of bulldozers have been purchased by the NDC government to 'kill' any fly that tries to disturb the country.
In October 2012, Peter Mensah, the Techiman North Constituency Organiser of the NPP was smeared with acid by NDC members in Techiman.
Dr. Martin Luther King warns us that; "the ultimate tragedy of the world is not the oppression and cruelty by the bad people but the silence over that by the good people". What then do we do as a party to stop these atrocities once and for all, and what can we do as a nation to ensure that we have peaceful elections in December and beyond?
Let's change and move Ghana forward together.
God bless Ghana! God bless the NPP!! God bless Kufuor!!!
Katakyie Kwame Opoku Agyemang, Enfield. London
NPP Activist
Official blog (www.katakyie.com) [email protected] 07577626433
"Vision, coupled with persistency, results in true success"