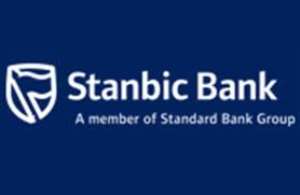 Accra, Nov 4, GNA - Stanbic Bank has launched a funeral insurance product to provide individuals and families the financial support to lessen the cost burden during funerals.
Dubbed: "Stanbic FuneralPlan", the product is underwritten by Metropolitan Life Ghana, a leading insurance company in the country.
Launching the product, the Managing Director of Stanbic Bank, Alhassan Andani said the low contribution of life insurance of 0.7 percent to the country's Gross Domestic Product was not good enough.
It is in this direction that Stanbic is partnering with Metropolitan to provide to the bank's clients insurance products that enhances their well being, he said.
The new product, Mr Andani said was part of the company's drive to meet the diverse needs of customers through the provision of competitive financial products and to also improve the financial inclusion of people who did not have access to financial services.
Stanbic Bank, he said, had committed a lot of resources to the development of the continent over the last decade and also in Ghana.
He said the bank last week launched its Offshore Banking products to provide external banking services to its customers.
Mr Andani said the bank would continue to develop innovative products to address the financial needs of its customers.
"Stanbic is here to make a real change in the life of Ghanaians," he said, stressing "the bank has qualified and dedicated staff to deliver on that promise."
The Chief Executive Officer of Metropolitan Life Ghana, Diop Frimpong said Metropolitan Life was excited to be associated with the Stanbic Bank FuneralPlan.
He advised Ghanaians to purchase the policy to save them the cost of giving a befitting burial to their loved ones.
He said the 'bancassurance' of Stanbic Bank was one of the methods being adopted all over the world to deepen insurance penetration.
The Head of Bancassurance at Stanbic Bank, Henry Manyo Plange said the policy was the most competitive priced funeral policy in the country.
"For as low as a monthly premium of GH¢2.50, a customer of Stanbic Bank can buy the funeral insurance policy," he said.
Mr Plange explained that a customer, who purchased a policy worth GH¢2.50 would earn GH¢1000 when the policy holder loses any of his or her family relations registered with the policy.
The Head of Bancassurance of Stanbic Bank, said the funeral policy covered six children up to 25 years and sixteen family relations
of the policy holder, including adopted children.
Mr Plange said prompt claim payments would be one of the distinctive feature of the Stanbic Bank funeral policy, adding that the policy would provide an immediate lump sum payment to cover the funeral expenses of named beneficiaries in the vent of their death.
GNA