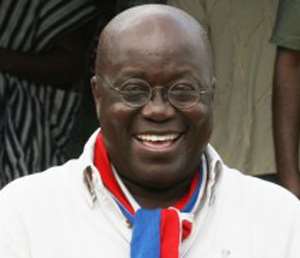 Nana AKufo-Addo has in a dramatic speech shot himself in the foot and by so doing conceded defeat ahead well ahead of December elections.
The Presidential candidate of the New Patriotic Party, NPP, Nana Williams Addo Dankwa Akufo- Addo who joined the Muslim community in Bia constituency to worship to mark Eid-Ul-Adha called on Ghanaians to "Reject politicians who campaign on ethnocentric lines". He continued and called on Ghanaians to continue to live in unity noting that such divisive comments have the tendency to bring disunity in the country.
Whiles Akufo-Addo's call is indeed welcome news but one wonder if Akufo-Addo is about abandoning the NPP's ethnocentric and ideological principles which for years the NPP leaders have demonstrated in various forms and magnitudes. One wonders if the recent encounter Nana Akufo-Addo had with the founder of the NDC , Jerry John Rawlings has within two weeks had a dramatic effect on Akufo-Addo to an extend that he is prepared to abandoned the course which hitherto has been his guiding principles – Tribal and ethnocentric politics.
Ghanaians will recall that, among other pronouncements with serious tribal undertones which have been made and viewed by Ghanaians as very divisive is the famous 'Yen Akan fuor ' comment Nana Addo himself made in Koforidua when he called on the NPP youths to do anything and everything possible to get him elected even if it comes to dying. He went further to explain that as far as life and death are concerned, ALL DIE BE DIE and therefore the youths must not be afraid to die provided it guarantees him the presidency of Ghana.
As if that was not enough, the chairman of the NPP Mr Jake Obitsebi Lamptey who is also a very close and good friend of Nana Akufo-Addo called on Akans to be prepared to take arms and fight their opponents just like the Akans in the Ivory Coast did in their bloody conflict that claimed many lives .
Early this year also, Mr Kennedy Agyapong, the man Mr Kan Dapaah described as a serial liar, was on radio calling for the extermination of the Ga and Ewe people in Ghana. In the said genocidal statement, he urged the Akans who own shops to attack any Ga or Ewe who enters their shops. Till date, the person Nana Akufo-Addo is yet to condemn or disassociate himself from Kennedy Agyapong's genocidal statement. Even Mr Obiri Boahene, one of the right hand men of Nana Akufo-Addo described Mr Agyapong's distasteful comment as a "very fair comment".
Another example of how the NPP leaders have demonstrated their love for divisive, tribal and ethnocentric comments is the recent leaked tape in which Mr Anthony Karbo, the national youth organizer of the NPP was heard explaining to his supporters how the party has charged him to recruit mercenaries to be deployed in non- Akan lands especially in the Volta Region in readiness for battles and to actively engage in violence activities during elections. It is on record also that Mr Roland, Nana AKufo-Addo's cousin has said that never would they in the NPP allow a northerner to become a leader of their NPP more or less president of the republic of Ghana. This somehow explains how the NPP humiliated former Vice President Aliu Mahama during the flag-bearership contest of the NPP.
Fellow Ghanaians, brothers and sisters, one will not be far from the truth to conclude that indeed, the recent meeting Akufo-Addo had with Rawlings has begun yielding some positive results for the country . The reason being that, Nana Akufo-Addo who had preached, actively supported and failed to condemn tribal, divisive and ethnocentric comments has made a dramatic U-turn to call on Ghanaians to reject those who preach tribal politics.
Again, if from the evidence available some of which have been presented above that indict Akufo-Addo as a person are to be used and measured against his called for the rejection of politicians who preached tribal and ethnic politics, then one will not be wrong to conclude that Nana Akufo-Addo is calling on Ghanaians to reject the NPP as a party and he the person Nana William Danquah AKufo-Addo come December 7th.
On behalf of Ghanaians therefore, I would like to wish Nana Akufo-Addo a very good post politics life as Ghanaians prepare to officially announce his retirement on December 7th.
Thank you Nana Akufo-Addo for your advice and we promise to retire you and reject the NPP come December 7th.
Kweku Smith
http://www.facebook.com/kweku.smith.12?ref=tn_tnmn
[email protected]