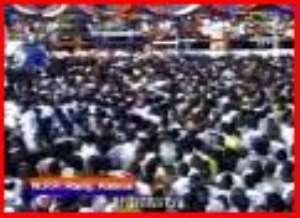 24 Oct/Accra/YAFMA/Press Statement- Fellow Ghanaians, Youth Alliance For Mahama (YAFMA) is an international movement focused on galvanizing support for H.E. John Dramani Mahama to win the December election decisively. Our focus is to target the youth in strategic locations across the country and impress upon them, the need for the NDC under J.M. to continue governance of this country.
In the wake of this week, our brothers and sisters of Research and Advocacy Platform (RAP) did a remarkable job by unveiling an audio recording in which the NPP, again, is plotting to destroy peace and harmony during the December elections. Kudos to RAP for a very patriotic endeavor.
Anthony Karbo, being a Parliamentary Candidate for Lawra and a former National Youth Organizer is a key member of the NPP and therefore hearing him on tape employing mercenaries and 'macho men' to cause political unrest during the December elections is a serious cause for alarm. It is also not new or surprising that he denies the content of the recording as his because that is quite typical of the NPP. It can be recalled that when Mr. Gyan's tape broke, he did the honourable thing by taking responsibility and explaining his involvement saying it was purely an information gathering initiative which didn't flout any law. But Anthony Karbo has shamlessly shrouded himself in cowardice and denial.
Advertisement
We are by this press statement extending a gentleman's call to the flagbearer of NPP, Nana Akufo-Addo to call his minions including Anthony Karbo to order. Nana Akufo-Addo should know that Ghana is not at war, we are merely exercising a democratic procedure therefore, "We the akans"; "all die be die"; "at all cost" are all not necessary. We are also imploring the flagbearer to put his house in order by ensuring his people desist from inflammatory and ethnocentric remarks. The NPP should know that it is Ghanaians who will decide who leads them and not guns.
As for Anthony Karbo, I am sure a day will come when we will all see what a coward he is. Growing up in village slums and streets of Tamale has corrupted his way of thinking. Which discerning young Ghanaian of his age will crave war in this 21st century? Earlier he was captured saying that "if the NPP is not declared winners of the election in 2012; Afghanistan!" But blame is not entirely due him, it is Nana Akufo-Addo who should carry all the blame because it is him who is instigating all this.
YAFMA is embarking on peaceful campaign activities that will ensure a decisive victory for the NDC. We believe that John Mahama is the ideal candidate to lead this country and effectively and efficiently manage its resources which now includes oil. We are urging all young people especially first-time voters to 'thumb' the number one position on the ballot paper to vote for the NDC. The NDC government is working assiduously to bring quality and very affordable education, expanding the economy which will eventually create quality jobs for quality graduates and reducing poverty with innovative social and economic interventions. We are making a siren call to all patriotic Ghanaians, both old and young to rally behind John Mahama to victory and ignore the deceptions that NPP under the machination of Nana Akufo-Addo are churning out.
---Signed---
Sonny YENIBEY-NAMOUZ
Chairman, YAFMA
www.yafma.org [email protected] [email protected]