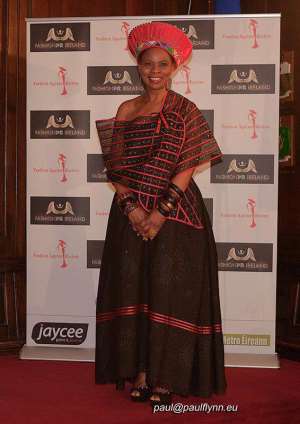 ALMERE – The Voice magazine Achievers award committee on behalf of The Voice magazine has announced the top names on their award list for this year's event slated for Friday 16th November 2012 at De Koning Party & Event centre, Isolatorweg 29, Amsterdam, The Netherlands from 5.00pm prompt.
Justina Mutale is the founder & CEO of Positive Runway: Global Catwalk to stop the spread of HIV/Aids, she is based in United Kingdom. She is being recognized with "OUTSTANDING AFRICAN DIASPORA WOMAN AWARD on her global initiatives to see a better African continent.
In addition, the Voice magazine is celebrating its 13th anniversary of the publication which started in August of 1999. The night is a gathering of Africa's best within the Netherlands and Diaspora Europe.
Others joining Justina Mutale as award winners includes Dr. Harold Robles, founder President o Medical Knowledge Institute, Mrs. Fatou Bensouda, The Chief Persecutor of the International Criminal Court (ICC); H.E. Ambassador Dr. Mrs. N.N. Akanbi,Nigeria Ambassador to The Netherlands; Honourable Dr. Mrs. Esther Keino from Kenya; Her Excellency, H.E. Prof. Ruthie C. Rono, Kenyan Ambassador to the Netherlands; Mr. Lawrence Bashiru Ali popularly known as Bash Ali; Mrs. Kate Anolue, Mayor of Enfield from the United Kingdom; Mr. Victor Ebikabowei-Ben, a.k.a Boyloaf; Justina Mutale, Founder & CEO of Positive Runway from Zambia/United Kingdom; Rev Dr. Justice Tom Marfo, Founder & Executive Director, Christian Aid and Resources Foundation; Mrs. Amma Baddoo-Asante, Dutch/African politician; Audrey Ngo Mbog, young African Fashion designer; Chief Don Kelleys-Orogun, DON K Promotion and Events Management worldwide; Rosemary Chileshe-Ellis, Director at Swanilenga Group Limited; Femi Awoniyi of African Courier, Germany, Isaac Izoya, CEO, Ehizoya Golden Entertainment; Syr Law , Hollywood actress; Mildred Kleinbussink, Director All Round Shipping, Mr. Jacob Egietseme Idinye; Mr. Adetokunbo Adesanya; Mr George E. Onuoha, Comrade Sunny Ofehe, Vamba Sherif and Joseph Seh and many other reputable organizations.

For media interviews with any of these personalities, kindly contact us by e-mail at [email protected] and we would facility the interview arrangement.
For those who wish to attend the award night, kindly visit our website at www.thevoicenewsmagazine.com and register on line please.