The Al-Hajj's Exclusive Archive from 1979 to Date: JJ'S LIST OF TRAITORS (1)
-Kojo Boakye Djan & AFRC Members, first candidates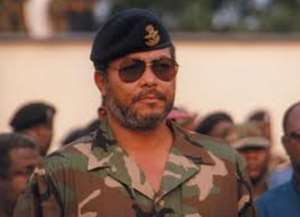 At the 30th Anniversary ceremony of the 31st December Women's Movement last week, the 15th of May, 2012; former president and founder of the National Democratic Congress (NDC), Jerry Rawlings minced no words in describing members of the Mills administration as traitors and turncoats.
The former military strongman told his audience that "we have always had to fight against one 'enemy' or opposition. If they can behave in a civil way it will be fair to call them opposition but seeing how they rounded up and jailed innocent people, terrorised and killed others, can we be wrong to sometimes describe them as enemies?
"This time however, we are fighting against two enemies – one the perceived enemy (referring to the NPP) and the other one the traitor (NDC). We cannot fight both at the same time and therefore one has to go".
This is not the first time former president Rawlings has referred to close associates, colleagues and acquaintance as traitors and turncoats.
Whiles addressing an enthusiastic audience at the Accra International Conference Centre on the 5th of May last year at the launch of his wife's bid for the NDC presidential slot, former President Jerry John Rawlings again referred to opponents to Konadu as traitors claiming, the party was made up of people with conscience and high principles and called on them not to allow themselves to lose those values.
He said "the time had come for members of the NDC to swallow the bitter pill and oust members who had lost touch with the ideals of the party, insisting "NDC could only be brought back on track if "we change gear, until we change the driver…"
Beginning from today we bring to our esteemed readers a lineup of friends, associates, acquaintances and family members of Jerry Rawlings who have fallen out with him because he perceives them as traitors who can be dangerous.
Major Kwadwo Boakye-Djan the man who planned the coup that brought Flight Lieutenant Jerry John Rawlings to power in Ghana on 4 June 1979 and together with other junior officers saved J.J. Rawlings from possible execution by the Supreme Military Council (SMC II) of General Akufo for planning a coup in the previous month has been Rawlings' pioneered traitor.
Major Kwadwo Boakye-Djan was not only the best man at Rawlings' wedding to Nana Konadu, but according to the New Africa Magazine, Boakye Djan was also the one who led the delegation that went to ask the hand of Nana Konadu Agyeman from her parents when the time came for Rawlings to marry her.
Major Boakye Djan who said "our friendship grew by leaps and bounds" recalls how at Rawlings' wedding to Konadu, he and Rawlings wore a tunic. They did not wear anything fanciful. They wore radical things and looking back, it was good".
His crime for being labeled a traitor by his pal, Rawlings was because, at the height of the AFRC handing over power to the then president-elect Dr. Hilla Liman in September 1979, Rawlings and a section of members of the AFRC who had a change of mind were exploring the opportunity to abandon the handover arrangements and hold on to power, but Major Kojo Boakye Djan and the rest of the AFRC members scuttled that effort and it did not go down well with the former junta leader.
The other reason, which was widely reported in the media, is the fact that after the Armed Forces Revolutionary Council (AFRC) chaired by Rawlings with Boakye Djan as Official Spokesperson eventually handed over power to Dr. Hilla Liman and his People's National Party; Rawlings flatly rejected the resettlement package offered members of the out-gone junta by the Liman administration, but Boakye Djan and the rest availed themselves to it.
The resettlement package included promotions/retirement from the military, undisclosed sums of cash, scholarships and bursaries to travel and study abroad so as to be reintegrated back into civil life to reduce any temptation on their part to disturb the command structure of the then collapsing armed forces.
Jerry Rawlings has since then been referring to all his colleagues in the AFRC who had benefitted from the Liman's government largess and who actually saved his life following his abortive and reckless May 15 uprising and arrest, as traitors.
Amongst them include: Captain Kojo Boakye Djan, Major Mensah-Poku, Major Mensah Gbedema, Captain Kwabena Baah Achamfuor, Warrant Officer (II) Harry K. Obeng and Staff Sergeant Alex Adjei.
The rest are, Corporal Owusu Boateng, Leading Aircraftman john N. Gatsiko, Lance Corporal Peter Tasiri, Lance Corporal Ansah Atiemo, Lance Corporal Sarkodiee-Addo, Corporal Sheik Tetteh and Private Owusu Adu.