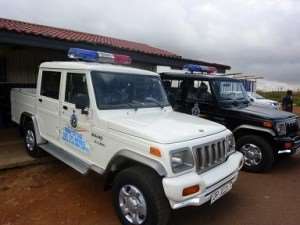 The Former Member of Parliament for Osu Klottey constituency and the Executive Chairman of Sidalco Limited, Mr. David Lamptey has extended his humanitarian service to the Ghana Police Service by donating two new Bolero pick-ups to the Kings Cottage Tent City Police Post to protect lives and properties of residents in the community and its surroundings.
The pick-ups are estimated to cost US$56000 with an additional two hundred and fifty thousand Ghana Cedis (GH250.000) for fuel and other emergencies in the Police Service
Mr. Lamptey noted: 'I have always believed that the police giving the necessary support will perform admirably.' He further called on stakeholders to support the Ghana Police service.
The District Police Commander of Legon, Chief Superintendent   Frank Anning who took the consignments on behalf of the Inspector General of Police (IGP), Mr. Paul Tawiah Quaye, noted that 'In this era of sophisticated crimes, the police have adopted many strategies to combat crime.
Among the strategies is to increase police visibility and accessibility in every community by opening police Post and Tent Cities especially at newly springing up estates. However the over reliance of the government to provide all the logistical needs of the police over the years has prevented the Ghana Police Service to be present at nook and cranny of the country.' He stated
He was extremely grateful to David Lamptey for this singular assistance as the gesture has come at a time police service was preparing for 2012 general elections. Anning was hopeful that this mutual cooperation will be strengthened in the years ahead for the benefit of their institutions and country at large.
He further stressed that the pick-ups at their disposal would not be the only answer to security but also provision of timely information about the criminals who invariably live among the communities.
Chief Superintendent Anning advised police personnel at the Kings Cottage Police Post to take good care of the vehicles and also maintain them properly at all times.