I Can Act In Any Capacity — GFA Boss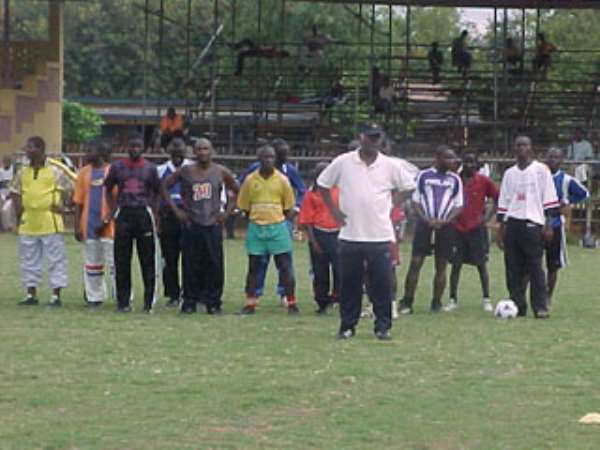 GFA chairman, Mr Ben Koufie, has stated that he is ready to work in whatever capacity to help Ghana soccer develop and not necessarily as FA boss.
"When even I am not sitting here as chairman of the football association," he says, "I will still be involved in the development of the game. That much I know.
"The only time I will stop having something to do with football is when I am dead."
Mr Koufie told the Graphic Sports in an interview that he will not lobby for re-nomination by government or re-election for the FA top post since his contribution to the game, and the development of Ghana soccer in particular, cannot be limited to his occupation of the FA high post.
To a question as to whether he has done enough to deserve a second term, Mr Koufie replied: "I am to be judged," but "in the name of continuity I will be prepared to go ahead".
"If I am found to be good and I am called upon to do it I will do it; if I am found not to be good and I am not called upon to do it I will continue to do the little that I can to help in the development of the game," Mr Koufie said of the chairmanship of the FA.
"Football is my life, I have lived my life for football. I have been a football coach for 42 years, I played football to the highest level, that is played for my country. If you add all these years together, you will see that more than half of my life on this earth has been for football and nothing else."
In spite of his apparent indifference towards a campaign for the job, the 71-year old former Black Stars coach remains convinced that his administration has established the proper foundation upon which football development can take off in Ghana now.
The Five-Year Development Plan (FYDP), said to be the foundation of grassroot football development in Ghana started under his administration, and the FIFA Goal Project, which has given birth to the Soccer School of Excellence at Prampram gives the FA boss proud thoughts.
"I am happy about the Prampram Soccer School of Excellence which will be tbe platform for (football) development. I am happy that it is going on well, the funds are being well-utilised and God permitting by January-February it must be ready and then there will be a home for football."
That facility, by its plan, will provide accommodation for the national teams during their camping and training periods. The two projects (School of Excellence and FYDP), according to Mr Koufie, "are the hallmark of my basic achievements".
But more satisfying to him is the financial soundness that the FA seems to be enjoying under his administration.
"Of course, I am very happy that I have introduced sanity into the financial administration of the football association. At the moment, the association looks back and smiles because we have something to work on."
His "something to work on" includes the regular payment of salaries of staff of the association.
In as much as he has had his fair share of the pressures of football administration in Ghana, Mr Koufie said time would vindicate his administration of some of the decisions they took.
Putting it in a philosophical language, he said, "It is good to make right decisions but it is better to make wise decisions because some right decisions have horrible repercussions".