Rawlings is Narcissistic and An Intellectual Midget (Dwarf)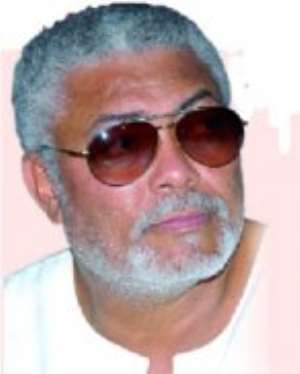 As human beings, we all want to be treated with respect but respect is one thing one cannot demand, you get it when you treat others with respect and that is a basic human nature President Rawlings seems to forget or because of his narcissistic nature believe respect should be given to him despite his lack of respect for others. I find it really hard to understand Rawlings enigmatic nature and his penchant for attention at all times.
The NDC leaders sent Rawlings an invitation to attend the party's manifesto launch in Ho on Thursday October 4th with a mistake made on the date of invitation and the event date which should have been solved internally between him and the Party Headquarters but this man has to run to the press and complain about how the leadership of National Democratic Congress don't respect him and to officially register disgust at the treatment meted to him and his office by not being privy to the contents of the manifesto which he is expected to speak about. After making a big deal about nothing, the conceited Rawlings who overindulges, lives in a dream and think Ghana revolves around him made it to Ho and did not disappoint by making one of his usual one liner zingers;
"There are evil dwarfs around the presidency- Rawlings"
The last time he was at Ho, he gave us two of them;
"Throw away the Babies with Sharp teeths" and "Rotten planks"
Who are these evil dwarfs? Are they the same babies with rotten teethes and the rotten planks? Rawlings inch by inch is really taking over the Mahama by getting into his brains and making him do his bidding and in order to do this, Rawlings in his street wise way is making Mahama look like a Saint while making President Mills the Evil or how do you interpret this;
"There is nothing more oppressive than when a leader refuses to see actions of negativity around him. In the same vein, there is nothing more relieving than when a leader begins to see such evil. It means there is hope"
Who is Rawlings talking about here? Who is the leader that refused to see actions of negativity around him and who is the leader that is now seeing such evil? Rawlings is talking about Mills and Mahama here taking into context his previous gloating about the death of President Mills when he said "The death of President Mills was Divine intervention that would propel the NDC to greater heights" Why Rawlings is still miffed against Mills? I know why. Nobody has ever refused to do his bidding like Mills who through the support of the Ahwois backbone made him a nonentity in his administration. In Mahama, he has found a listening ear who ran and provided him with a street light for a town within three weeks after requesting it. Is Mahama acceding to Rawlings requests because he wants him to go on the hustings for him? You bet. Will Mahama 'diss' him after winning the elections? That remains to be seen and we are not likely to gauge the outcome because Mahama is more likely to lose this election with or without Rawlings campaigning.
Rawlings despite being an intellectual midget in my estimation might be above the average of a typical NDC leader and miles ahead of their foot soldiers because in Rawlings own way of telling us he is now a Player to be respected in this Mahama administration, he threw Mahama under the bus when he said;
"I am sharing this with you (referring to the jubilant supporters) because there have been behind the scenes discussions, so we all need to pray and support our president to succeed."
This Narcissistic and schadenfreude Rawlings couldn't even keep it under wraps that, he and Mahama are talking behind the scenes he has to share it with us that, Mahama has been bending backwards to get him to campaign for him that is why he has been attending NDC functions unlike President Mills who refused to do what he told him to do. Maybe in Mahama, Rawlings can see another Arkaah who he can boss around. Will President Mahama be able to fulfil all Rawlings demands which is a prerequiste for him Rawlings go on the campaign trail and hustle for votes for him? Can President Mahama meet this request;
"Former President Jerry John Rawlings says in order for President John Mahama to retain power for the ruling National Democratic Congress (NDC) in the December polls, it is important for him to get rid of "the evil dwarfs surrounding the presidency".
President Mahama, are you going to get rid of the "evil dwarfs surrounding" you? This is more like a command from the Proxy President Rawlings to the Caretaker President Mahama. Rawlings was waiting for this opportunity that would have eluded him if President Mills was alive. Now wonder he couldn't hide his glee after hearing about Mills death and ran to BBC to show the whole world his bellicosity and lurid account of President Mills death.
"What is important now is that he has realized this evil dwarfs around him and he is taking steps to address that," Mr. Rawlings added,"
He is taking steps to address that? Mr Rawlings, have you been promised by President Mahama heads are going to roll in the coming days? Does it mean we are going to see some of these evil dwarfs kicked out of this government? I don't think the Ablakwah's and the Ofosu Kwakye's and all the other sharp baby teethes and the rotten planks can sleep well if they are intelligent enough to realise what Rawlings has sardonically told them. President Mahama has been put in a very hard place between the devil and the deep blue sea and we the interested parties will be watching with keen interest to see who comes up ahead, the sharp baby teethes/rotten planks and Flt. Lt Jerry John Rawlings.
Justice Sarpong
Houston, Texas
(CARDINAL of TRUTH)