Belgian provincial and municipal elections, 2012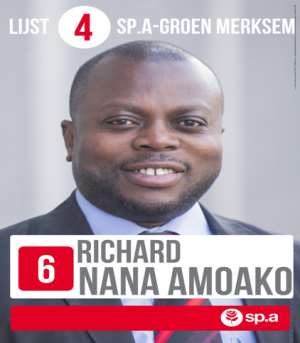 The Belgian provincial and municipal elections of 2012 will take place on 14 October. Since the previous 2006 elections, these are no longer organised by the Belgian federal state but instead by the respective regions
• Brussels with 19 municipalities
• Flanders with 5 provinces and 308 municipalities
• Wallonia with 5 provinces and 262 municipalities
In the city of Antwerp, elections will also be held for its districts
The Belgian city of Antwerp consists of nine former municipalities (called deelgemeenten) which have the special status of district.
1. Antwerp
2. Berchem
3. Berendrecht-Zandvliet-Lillo
4. Borgerhout
5. Deurne
6. Ekeren
7. Hoboken
8. Merksem
9. Wilrijk
I would like to draw your attention to the district Merksem in Belgium, where the 'Nkosohene' of Atwima Apemanim in the Ashanti region of Ghana, NANA AMOAKO RICHARD, a legal Practioner, contests as a district councillor on the ticket of the SP.A ( Socialistische Partij Anders) rated number sixth(6th) position on the 25 candidate listing for the District council.
Nana Amoako Richard started active political career in Belgium in the year 2006.
Merksem is a district of the municipality and city of Antwerp in the Flemish Region of Belgium. It has almost 41,000 inhabitants.
The history of Merksem goes back to Gallo-Roman times. During that period the region was mentioned as Merk (border) and Heim (settlement) being part of the diocese Kamerijk. Merksem has for centuries been part of a larger community together with Schoten and Sint-Job-in-'t-Goor. In the 16th century Merksem was separated from Schoten.
The road currently known as Bredabaan (Breda Road), once a major northern access to Antwerp, passes through Merksem. The suburb's other main axis is the Albert Canal.
For the third time, non-Belgian EU residents may vote and be candidate for the municipal elections under the same conditions as Belgian residents, and for the second time non-Belgian non-EU residents may vote, but not be candidate, after 5 years residency. As voting is compulsory and Belgium may not impose voting on foreign residents, would-be voters from both categories have to fill a document and go to their municipal administration before August 1, 2012 to be included on the list of electors. Non-EU residents have to sign a document accepting to conform to Belgian laws and Constitution. The percentage of foreign residents who are enlisted as electors has severely declined from 2006 to 2012: from 20.9% to 14.85% for EU residents, from 15.7% to 6.30% for non-EU residents (still including Bulgarians and Rumanians in 2006).
Jorge ( Anidasoo Radio)