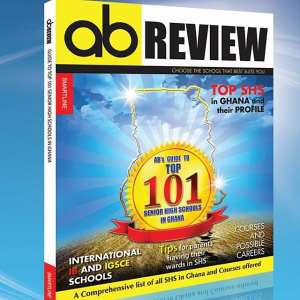 AB Review – a leading research, media and creative solutions company has published for the first time in the country a standing of the top 101 high schools in the country.
The book , published by Smart line publishers, features profiles, pictures and write-ups of top senior high schools and international schools in the country as well as articles written for JHS students, SHS students, parents of high school students and a report on findings of the groups' survey.
Speaking to NanaYaw18.com, the Executive Director of the group, Mr. Abel Ohene Acquaye said the book has come at a very opportune time where students are being placed in their various high schools.
He said the guide was published to serve as an eye-opener for junior high students and aid them make informed decisions on the senior high schools to attend. He furthered that his company seeks to create a more engaging and competitive environment among high schools and decided to use the research publication to serve that purpose.
The creatively designed book is a must-have for all homes. The book also lists all senior high schools in the country, their locations and courses offered. Parents, head teachers, students and all stakeholders of education are entreated to get copies. Copies can be purchased from the Silver bird lifestyle bookshops, Legon bookshop and Kingdom bookshop. For bulk purchases, call AB Review on 0267526785.
Story: Nana Yaw Wiredu / NanaYaw18.com