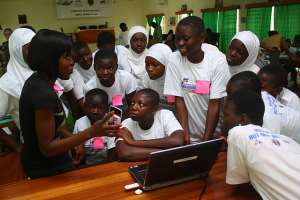 On October 2, the U.S. Embassy, partnering with the Kofi Annan Centre Of Excellence in ICT (AITI-KACE) wrapped up a week of workshops to promote hands-on Science, Technology, Engineering and Mathematics (STEM) education among junior and senior high school girl students in Ghana. Two American science educators, Dr. Kimberly Brown and Dr. Claudia Morrell, shared mentoring suggestions and teaching techniques with approximately 100 Ghanaian educators and lead activities with hundreds of girls in Tamale, Kumasi and Accra to peak their interest and encourage further exploration.
This week's activities will be immediately followed by Robotics Inspired Science Education (RISE II) in partnership with the Ghana Robotics Academy Foundation, where some 42 secondary school science clubs will compete against each other in Tamale, Kumasi, Accra and Cape Coast. These competitions follow last year's first ever robotics competitions held in Ghana, where over 400 students from more than 40 high schools competed in building robots with expert instruction from NASA Senior Robotics Engineer Dr. Ashitey Trebi-Ollennu and prominent Ghanaian professors.
RISE seeks to transfom the learning experience of young Ghanaians by connecting science theory with hands-on learning experience. Not only do teachers and students strategize, design, build, program and test an autonomous robot to solve defined real world problems, but students are able to develop leadership skills, self-confidence, presentation and communication skills through the experience of Robotics competitions.
These programs continue the U.S. Embassy's engagement in encouraging educational excellence in Ghana. USAID recently joined with Ghana's Ministry of Education, Vodafone Business Solutions, and Global e-schools and Communities Initiative (GESCI) to launch the ICT for Education Global Development Alliance public private initiative. The Alliance supports the Ghana Educational Service's goal of providing internet access to senior high schools to support teaching and learning, and to improve education management. Under this program USAID will provide for installation and necessary internet connectivity upgrades to 400 senior high school throughout the country.
We at the U.S. Embassy look forward to continuing our educational partnerships and seeing the results of these activities in the months and years to come, as students are able to build on their newly-acquired skills.