Queens Overtrained — Coach Oko Aryee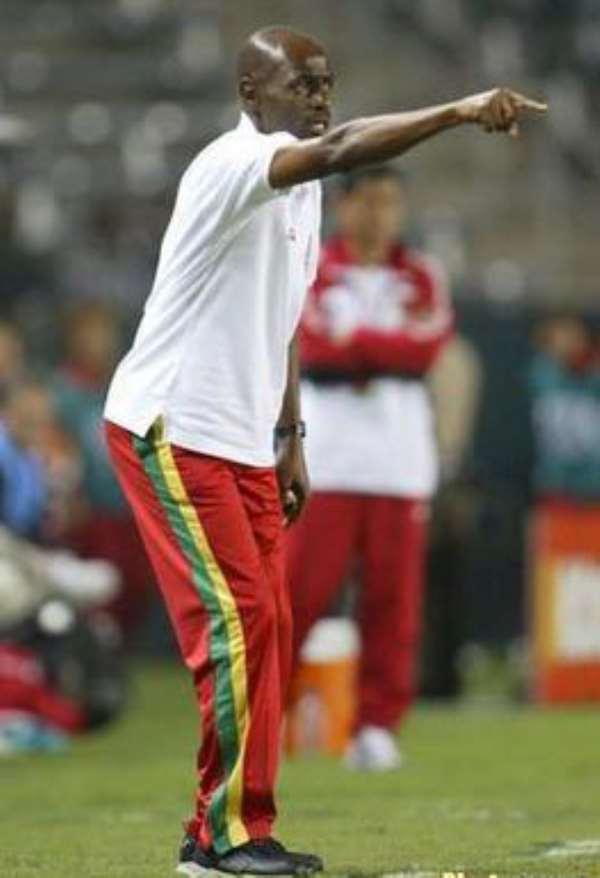 After a first round knock out from the Women's World Cup finals in the US, Black Queens coach, Oko Aryee, claims that his team played below his expectation because they overtrained.
The startling disclosure in Carson, California, was the closest the usually tight-lipped coach came to indicating that the last lap accelleration in team training was not his idea. He came close but only fell short of revealing that that phase of preparation was an imposion either by public opinion or from superior officials.
"In the second half of the match against Russia, the team ran out of energy and could not play with the same enthusiasm as they played against China in the opening group match." "That had not been the trend, we played many matches during our seven-week training tour of the US before the tournament and in all, as well as in the opening match against China, we finished very strongly, but all that changed after the China match."
Before the China match, the team had a tradition of one training session a day and taking a full day's rest ahead of a match. And the coach, a graduate of physical education, had explained then, that "our physiology is different from the Asians, Americans and Europeans; and these are women on whom I have done countless experiments, to arive at a scientific conclusion."
But there was a radical change in that theory and training schedule after the game against China and the team embarked on a rigorous regime of two training sessions a day, including days before matches, though Coach Aryee won't say why. He dropped the overtraining clue only after a Chinese correspondent had asked at the official post-match interview whether Ghana burnt all the energy on China.
The coach also blamed American referee Kari Seitz for disallowing a handball against Russia in the Europeans' 18 and allowing a goal against Ghana, even after a Russian had handled the ball.
Before Ghana's last two matches, Oko Aryee's style and emphasis on rest had not found favour with Ghanaian officials including GFA chairman, Ben Koufie, himself a trained coach, though none was prepared to tackle the issue openly for fear of being accused of interference.
Oko Aryee also came under severe criticism for keeping skipper Alberta Sackey too long in the game against China, but he disagreed with a suggestion that he dropped Alberta from his starting line-up against Russia due to official pressure.
"At our last training before the Russia game, I realised she was extremely heavy and her speed reduced considerably. So I decided to let her come in the second half to try some shots," he said to an unconvinced audience.
Commenting on Oko Aryee's claim of overtraining, Chairman Ben Koufie disagreed. He said the problem he found with the team was that of a fluent side that lacked punch in attack.
He praised the team for their defensive courage and midfield enterprise, saying they showed no sign of tiredness but rather extreme mobility in both halves of their game.
"If the stamina they have displayed here came from an over-trained side, then it is good for coaches to over work their players."