September 29, 2012
|
General News
New Tafo - Akim Pentecost Marks Golden Jubilee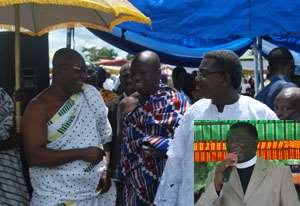 THE CHURCH of Pentecost, New Tafo in the Akim district of the Eastern region has climaxed activities marking the golden jubilee of the church which was established in 1962.
Last Sunday the members held a grand open air church service at the forecourt of the church in New Tafo-Akim under the theme 'Great is thy faithfulness'
Apostle Francis Ofori Yeboah, the La Area Head, who represented Chairman of the Church of Pentecost, Apostle Dr. Opoku Onyinah at the event preached a sermon based on 1 Thessalonians 5:12-24.
He said it was important for the church to take stock of its past   during such events and learn lessons from them in order to make better projections for the future.
He added that it was equally important to assign roles to the members especially the youth who are the church's next generation of leaders.
The area head urged the members to resist the temptation to confront members of the clergy with insults and show a high level of respect to them as they provide services that uplift the physical and spiritual well-being of the society.
He in turn appealed to members of the clergy especially the prophets to always insist on interpreting the true voice of God rather than confusing and putting fear in the people which will end up causing chaos in society.
Apostle Ofori-Yeboah who spoke on a wide range of issues called on the youth to endeavor to see the dignity in doing hard work rather than allow themselves to be used by wicked members of society to disturb the peace especially as we approach the general elections.
District Pastor of New Tafo-Akim,  Rev. Bright K Ashong in an interview with DAILY GUIDE paid glowing tribute to the founding fathers and pastors for their tireless efforts to lay the foundation of the church in the wake of many challenges.
He expressed appreciation to the countless people who helped to establish the church particularly Osabarima Adusei Peassah IV, Chief of Akyem Tafo, New Patriotic Party (NPP) parliamentary candidate for the area, Oseedeyo JB Danquah and NPP Director of Finance and Administration, Opare Hammond, both of whom are natives of the area and whose parents founded the church.