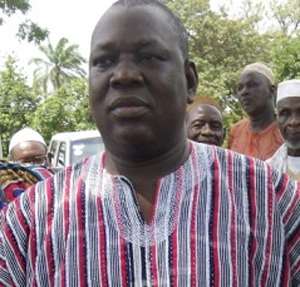 Moses Bukari Mabengba
GHANA HAS exceeded the Millennium Development Goal (MDG) target for access to improved safe drinking water, Clara Dube, Chief Field Officer of the United Nations Children's Fund (UNICEF) Northern Regional office has said.
She said the country as at 2008 had already attained 82% of national water coverage as against the MDG target of 78% by 2015.
Dube disclosed this to the media at a debriefing exercise after a familiarization tour to some UNICEF supported communities under its Water, Sanitation and Hygiene (WASH) programme in the Northern region.
The WASH programme being implemented in 400 communities through the Community Led Total Sanitation (CLTS) model is an adopted national strategy to reverse poor sanitation and boost  coverage of access to safe drinking water in rural communities.
She said through the collaborative efforts of UNICEF and its partners, safe water supply had reached 245,639 people in 10 districts with each district having at least one source of improved water supply.
'Improved water supply contributed to a sharp reduction in guinea worm cases from 501 in 2008 to eight in 2010,' she said.
She however noted that although the country had reached the MDG target for improved drinking water, there had not been much improvement in the area of sanitation.
She said sanitation improvement in the country currently stood at 14% against the MDG target of 53% by 2015.
Dube consequently called for significant effort to be made in order to get the country on track to meet the MDG target.
Moses Bukari Mabengba, Northern Regional Minister, during a courtesy call to his office by the Tamale office of UNICEF, said government through the local government department had  provided a total of GH¢200 million to improve WASH services.
'We ourselves with funding from local government have targeted seven communities and have trained volunteers to help in sanitation and health.'
He said through the intervention of UNICEF, Open Defecation (OD) which was a major sanitation problem in the region had been reduced with 10 districts in the region being declared Open Defecation Free (ODF).
Mabengba therefore called for a positive change in the attitudes of residents towards sanitation in order to fully benefit from the programmes government and its development partners were rolling out in the region.
A visit to the Yung community in the Savelugu municipality and Gbandu community in the Tolon district of the region showed improved sanitation and waste management. UNICEF supported by the WASH programme had been providing services to these areas in the last five years.
The communities through the help of volunteers CLTS had well-kept toilets, a clean environment and hand washing facilities.
The Yung community, for instance had built 24 household latrines and 25 soak-away pits to replace open defecation and the inappropriate disposal of liquid waste in the community.
  From Jamila Akweley Okertchiri, Tamale