Mobile Commerce is The Next Frontier...argues Tony Burkson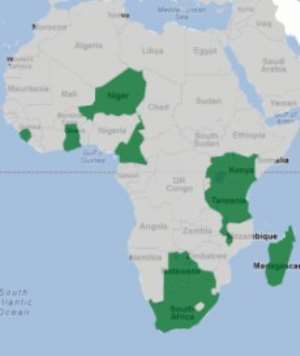 If you typed mobile money into Google you will be served with reams of articles about how mobile money is changing Africa, and how successful it is on the continent despite the fact only one country out of 55 African countries has successfully implemented mobile money on the continent. As an Afro-realist I prefer to study the situation on the ground rather than attribute the success of one country to a whole continent.
Whilst in Ghana a few weeks ago I pulled out my debit card to pay for dinner only to be told by the waitress that it was a cash-only service. This was at one of the best restaurants in the country. The reliance on cash is pervasive across sub-Saharan Africa, and for a continent said to be at the forefront of mobile money it seems rather hard to believe.
Thanks to the runaway success of M-Pesa in Kenya there is a mistaken belief among some that mobile banking & payment is the norm across Africa. Even though there are many bright spots on the continent where the mobile phone is improving financial inclusion and facilitating commerce, there is still a long way to go. The quest to replicate Kenya's success remains a difficult and uphill struggle, however in countries like Nigeria, Uganda and Ghana mobile money projects are beginning to pay off for operators. Despite this, cash still remains the primary and main means of commerce in Africa.
Prateek Shrivastava, Managing Director of Emerging Markets at Monitise believes Kenya's success could be attributed to, amongst other things, a clear demand for a single mobile money service – 'send money' – due to high numbers of domestic migrants, as well as the relatively dominant position of Safaricom (Biggest Mobile Operator in Kenya) in the Kenyan market. He also pointed to the regulatory regime as an enabler of the success seen in Kenya.
In markets where these conditions do not exist, could a focus on m-commerce increase adoption and patronage of mobile money? On the face of it Sub-Saharan Africa has all the ingredients necessary to drive m-commerce; a large informal sector where business is carried out mainly by cash. Furthermore, women, who naturally are at a higher risk of robbery and theft, make a sizeable portion of this informal economy. These factors coupled with limited access to traditional financial services means this is a region begging for a m-commerce driven economy powered by smart mobile payment systems.
While most Africans are limited by access to computers and unreliable internet connections, the one commodity that is plentiful is the mobile phone. Successful implementation of mobile payment will create an m-commerce revolution to rival the success that e-commerce has had in the developed world. This will allow the farmers, businessmen and entrepreneurs of Africa to reach a wider range of possible buyers at a relatively low cost.
All over the world e-commerce is playing an increasingly significant part in the economies of both developing and developed countries. A recent study by management consultancy AT Kearney found that in the UK e-commerce contributes £45 billion to the country's economy or 3.1%o of GDP. The reason e-commerce has been so successful is that it allows anybody to offer their goods and services to a wider market beyond that imposed by geographical limits. Most of sub-Saharan Africa remains a rurally driven agri-economy, with farmers and businessmen having to rely on their local market days to do business. Africa needs a m-commerce revolution of its own to radically change the way business is done.
The revolution will not benefit only rural dwellers but also their fellow countrymen who live in urban areas. From micro transactions such as purchasing a cinema ticket to those on a larger scale such as paying for white goods, m-commerce will enable people living in African cities to make the transactions and payments necessary for everyday living at the push of a button, without the need for cash.
This will also open the door for many online businesses to emerge, and the ease of purchase that will follow will spur consumption, create new jobs and help African companies to develop markets beyond their existing borders and the borders of the continent.
In recent months a couple of forward thinking African start-ups have launched services looking to disrupt the way people currently pay for products. With banks and mobile networks spending huge sums to secure a piece of the mobile money action, these technology companies are already thinking of the future, building online shopping cart plug-ins that are accessible via mobiles and have the capability to process mobile payments. The key factor driving this innovation is payment, how to make it easier for people to pay for goods and services in markets, restaurants and cinemas as well as online without the need to resort to cash.
Venture capital backed KopoKopo operates a platform in Kenya that is helping small and medium businesses move away from cash by offering mobile money acceptance at the point of sale. Another m-commerce platform in Kenya is the Mpayer platform, which can be accessed over the web or on web-enabled phones and can also be used in physical transactions. It is not difficult to imagine the impact of such technology on small businesses, farmers, craftsmen, and food/beverage retailers.
Kenya isn't the only place where mobile money is trying to hit critical mass; one of the few successes in the mobile money space in Nigeria is a relatively new upstart, Paga. The company is backed by the likes of Acumen Fund, Adlevlo Capital, Omyidiar Network and Silicon Valley investor Tim Draper.
The core business for Paga is its mobile money transfer service; however those behind it realise the importance of using their platform to facilitate payment for goods and services, and are signing up merchants across Nigeria to use the platform to receive payments. As with Kenyan start-ups the suspicion is that the company will pivot to focus more on consumer-to- merchant payments as opposed to peer-to-peer transfers.
Outside of Kenya mobile operators are beginning to realise that mobile money as a stand-alone offering does not excite consumers, with many consumers telling researchers at CGAP that they know their network has a mobile money proposition but haven't found any need to use it yet.
Intel backed Ghanaian Technology Company Rancard Solutions and the mobile operator Bharti Airtel recently launched a mobile platform that allows their customers to buy and sell products via their phones. Furthermore, Airtel customers can also pay for purchases using their mobile wallet. Whether this will take off or not remains to be seen, but it is a welcome step in the right direction.
A recent report from InMobi revealed 65% of consumers in South Africa have spent money via their mobile device, Isis Nyong'o, VP & MD at InMobi Africa believes that over the next 12 to 24 months, Africa will see an increase in bill payments and purchase of physical goods via the mobile. Ms. Nyong'o argues that as m-commerce adoption spreads across Africa, for brick and mortar stores to survive; having a transactional mobile presence is a no brainer.
The argument remains whether African Governments should take over and force banks and mobile operators to work together to provide a seamless interoperable system of payments, or whether this should be left to the private sector.
In Ghana the Government has launched a payment platform named E-zwich. The system was designed to allow consumers to pay for goods and services with debit cards, but the failure of merchants to fully adopt it means it has become something of a white elephant.
Despite this failure the ubiquity of mobile phones on the continent, and the success of mobile payment schemes in South Africa and Kenya means there is reason to believe a correctly implemented mobile payment scheme will be successful, and make the m-commerce market in Africa one which no companies or merchants can afford to ignore.
Story by Adom News /Ghana