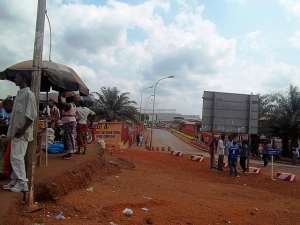 Dear readers,
The narration of my journey across West Africa continues.
Journal Entry – Start
Date: 15/11/11
Time: 4:44PM
I am heading back north to the Guinea border en route to Conakry.
Freetown was a wonderful experience. Kind people.
Entry conclusion
The level of progress in Sierra Leone indicates how fast they are recovering from the traumatic events.
Journal entry – end
Commentary
To have come this far to Freetown was something to me and the desire to go further was something even more.
I have seen much of Freetown already and must retreat back north. I have to head back to Kambia border, cross into Guinea and continue to the capital; Conakry. I would continue the push to Guinea Bissau from the capital.
I thought whether it was possible to enter Liberia through the northern border, but it still was not safe. Traveling overland was not advisable due to the rising political tension in the country at that time.
I left Freetown around 3:15PM came through Waterloo, Konno Town, Port Loko and to the Kambia border by 6:00PM when it was just about to be closed. I came with five Sierra Leonean female traders heading to Conakry to trade.
I visited with the Sierra Leone immigration officer who will not believe a Ghanaian would come to Sierra Leone for tourism. He was surprised to see me going out so soon.
"Well…what did I tell you?" I joked.
"Can I have my 20,000 Leones back….or maybe 10,000?" I continued.
"Ghanaians…you have money," He joked, "Ghanaians and Nigerians you have money. You must give me more money"
We left Kambia and came to Pamelap where we had to spend the night. Criminal gangs in the area normally target Sierra Leonean traders traveling to Conakry at night so it made sense spending the night in Pamelap for this reason. Conakry itself did not look like a city travelers' safety is guaranteed at night.
Pamelap is a small community and would be difficult to find accommodation. The Sierra Leonean women became protective of me. I became immensely affected by all the acts of kindness. There are kind people almost everywhere, especially women. Majority of Westerners who visit Ghana would affirm that Ghanaians are hospitable and generous people. Most West Africans would, however, disagree with that observation. I bow my head in shame conceding this truth. Nigerians, Sierra Leoneans, Liberians and many other West African nationals are cast in a certain light on the mind of the typical Ghanaian - uncultured and prone to immoral behavior. Nigeriophobia is an example. This is the irrational fear that almost every Nigerian is prone to criminal behavior and that one must avoid coming in contact with them at every possible opportunity. This unfounded fear is widespread not only in Ghana but around the continent and beyond. There is no truth to this, however. Nigeria is the most populous country in Africa and the 7th populous in the world and has over six times the population of Ghana. In terms of land mass, Nigeria is about four times the size of Ghana. I can put it in this form - in every square mile of random world population, a Nigerian has about 1.9-2.0% chance of appearing than a Ghanaian. The Ghanaian population is about 15% of the Nigerian. One and half (1.5) percent of the Nigerian population is about 2.4million. That is the population of Accra and Cape Coast combined. Imagine criminals the size of both Accra and Cape Coast' populations combined, unleashed on the world from a single country. Well that is one and half percent of the Nigerian population. By these mathematical considerations, it makes lots of sense to dismiss the notion that almost every Nigerian is prone to criminal behavior. The intelligent approach to this is to consider every criminal or immoral behavior on individual basis. Every Ghanaian is only credit to Ghana but personally responsible for their actions. If this principle is true, we can agree that it applies to every country.
We can easily deduce that, the prejudice towards other West Africans in Ghana is borne out of the cultural differences. It is true for instance that there exist vast cultural differences between say Liberia and Ghana. Taking Liberia for instance, the country was founded only in the mid nineteenth century by black colonialists who migrated from the United States. They were the freed black slaves who settled and colonized the indigenous in that area. In addition, freed slaves from captured slave ships were also sent there. The area was saturated with racial supremacy as the Americans thought of themselves as being more superior over the indigenous and other slaves. Unlike us, large portion of the population did not have any deep-seated cultural heritage to guide them. It was a whole new beginning for them. Whilst most Ghanaian ethnicities and its' heritage have been in existence in this area for hundreds of years, Liberia and most of its ethnicities have only been around for less than 200 years. Majority of them lacks distant cultural background. Under this basis, you should understand why a Liberian may behave in a manner which may be misconstrued by the Ghanaian as uncultured. One can make the case that their cultural refinement is taking its own pace. Is that not a characteristic of a young society?
There was an inn at the entry to the Pamelap community purposely to serve the traders that get caught up there. It was such a crowd. You pay 5000 Guinean franc for night. There was no electricity in most part of the area so it was almost entirely dark. The room was so hot and stuffy. About forty people were combined in one large room. I remained outside with my backpack the entire night.
The distance from Pamelap to Conakry is about 120km so it wasn't very much of a distance to cover. We left very early around 4:00AM and arrived in Conakry at 5:50AM. There were military checkpoints every few kilometers. Each of us in the bush taxi contributed about 25,000 Guinean franc in total to pay at every checkpoint. The road was paved but with lots of portholes.
Journal Entry – start
Date: 16/11/11
Time: 12:05 PM
What has befallen French Guinea?
Who promotes the law?
Is this the cost of ultimate freedom?
How do things work here?
Are there underground train tracks linking Conakry to Bamako directly?
Entry conclusion
This is true human tragedy.
How is lawlessness promoted? When society refuses to punish law breakers duly.
Whoever breaks the law deserves to be punished.
Journal entry – end 
Commentary
I entered the above entry sitting quietly on a bench about a kilometer away from Conakry Int'l Airport, observing the conditions in Conakry. Conakry represents the case where a society ultimately breaks down when law and order are not observed. It seems as though law and order were never established there at all. I did not see any sign indicating otherwise. Almost everyone tilted the law to fit their personal needs. They broke the law whenever convenient.
A society that doesn't punish the lawless does itself more harm than good. This condition creates comfortable environment for lawlessness to foster. Chaos and social breakdown are among some of the results of this. This is the case with many third world countries, which Ghana and Guinea form part. Successful societies are, however, run in contrast to this attitude.
We have similar attitude in Ghana. Law breakers use poverty as an excuse to break the law and we refuse to punish them.
For the first time it seems as though I was about to walk away from a challenge. To stay further in Conakry was a challenge to me. I have never seen anything like that. Conakry presents the entire state of Guinea on a very thin sheet at glance. After wandering around the capital for about six hours, I was ready to continue to Guinea Bissau already.
Almost every corner of the capital was littered with garbage. Road traffic was not observed. Traffic lights did not work and the once that did were completely ignored by road users. The drivers would run into pedestrians in the quest to find shortcut to the end of the road. I witnessed a taxi drove into the bamboo crafted shop of an orange seller destroyed it and continued without stopping to neither sympathize nor compensate her. It was total chaos. There was total disregard for human life. Conakry to me was a human tragedy.
I hasten to locate the Guinea Bissau car park. The entire bush taxis heading to Bissau, the capital of Guinea Bissau in this car park will have to go through Senegal. That would take about three days if I was not mistaken. I wanted to go directly to Bissau. There is indeed a mini bus heading directly to Bissau but I have to travel to another car park in the Marche Medina area. A fellow volunteered to lead me to the car park. The world is never short of kind people, not even in the tragedy Conakry represented. His name was Ahmed. That is what travel does to travelers; you befriend and trust strangers. It is not bad sometimes, at least not to me, because I do not buy into the mindset that the world is a dangerous place and that everyone is plotting to harm me. Ahmed later narrated to me the story of how Ghana Immigration Officials robbed him of his entire savings when he tried to escape the hardship of Guinea to Ghana in search of a better life in the mid 90s.
First, I wanted to print something off my email, and the only location Ahmed thought would suit my need very well was an internet café inside the premises of Conakry Int'l Airport. The internet speed was very slow that I couldn't even access the msn login homepage after 45 minutes. At that point, I thought I was wasting too much time that the mini bus to Guinea Bissau must be getting ready to leave without me. We arrived at the car park only to be informed that the bus to Bissau directly would only be leaving the following day. This presented me with a challenge. An adventure without such challenges is not an adventure at all. In any event, I did not intend to stay in Conakry. I consulted my map and reached a resolution. I resolved to head up north, cross into southeast of Senegal and continue to Dakar en route to the archipelago islands of Cape Verde in the central Atlantic ocean. I would come down south to Guinea Bissau when I come to Gambia later on. The choice to head any direction is another privilege of the human species. I forged my own path. I could go any direction I want as long as it is legal and the course leads to somewhere. In addition, there must be food, water and some scenic views. It was my choice to do whatever I wanted.
The overland distance from Conakry to the Senegalese capital is about 1300km. This should take at least three days to cover. The tires of the bush taxi to Senegal looks as if it were about to shred itself into pieces. The reliable thing about bush taxis is that they cannot be relied upon. They would lengthen short distance with overheating, flat tire and all sorts of problems.
We have to go through Boffa, Koussaya, Boke, Gaoul to Koundara and cross the northwestern border and continue to Kalifourou to change bus/taxi to Dakar.
We left Conakry around 1:30PM through Bogaya to Correra. There were military checkpoints and barriers every few kilometers. This effort will turn out to be my ride through hell. I was constantly harassed and coerced into paying money at almost every military checkpoint. I will be threatened to pay 10,000 or 5000 franc at every checkpoint. They wouldn't permit the car through the barrier if I did not pay. I couldn't negotiate because it was pay or no crossing. I was the only one harassed and forced to pay because I was the only foreigner in the car. They would wonder if I knew where I have come to and where I am heading. I often thought they were crazy. I guess they thought the same about me.
We shared the road with other bush taxis. Some of the taxis carried with them heavy loads, over speeding and overtaking each other in the portholes. Scroungers would sit comfortably on the peak of the loads smiling and conversing. The portholes would sway the taxis together with the loads to the other side as if they were about to roll over. Compared to other bush taxis, our Peugeot didn't have any load at all. The road would get soggy when it rains and the shredded tires would lift the dirt and showers it all over the car. The countryside was very quiet. The towns and villages had no electricity. The only light that brightened over the stretch of roads came from the sun in the day and the low intensity of the moon and fires that were dotted in the forests at night. It sometimes seems as if there was a war and the entire population of the towns and villages were evacuated to the other side of the deep forest.
We traveled the entire night through Boke, to Gouba en route to the footsteps of Gaoual. Our car broke down around midnight in the middle of the forest. We had no option but to continue with the busted tire to the next village which was about 30 miles into distance. My sense of safety was lost. The affair and its consequences didn't seem to bother me because I have become a Guinean and must endure the conditions. Anything could come out from the forest and attack us if we decided to stop to change the tire, so we continued slowly through the woods on the unpaved roads to the village around 2:00AM. The village was calm; cold with the tree leaves beating each other and owls singing. I slept under a shed with my backpack serving as the pillow for the rest of the night. I woke up around 7:00AM and took a walk around the village. I drunk water and ate some hot sweet potatoes that morning to replenish my dissipating strength. Sweet potatoes with salt were the common food in the village. I really needed all the nutrients the sweet potatoes could offer. I perked up after this fare and was ready to attend to my journals. I ate more potatoes, fruits and some raw vegetables most times throughout my travel to maintain some balance.
After over 24 hours of traveling through the unpaved narrow woods of central and northern Guinea, we finally arrived at Koundara, a northern town. There was a big customs checkpoint here. I was supposed to pay some 10,000 or 5000 franc as usual, but the gracious custom official pitied me upon the look at my state of appearance and gave me a free pass. He could understand what I have gone through and the total amount I was forced to pay since the previous day. I have covered about 700km of distance with much of the road being unpaved and dusty in a bush taxi. I was so tired, stressed out and looked dirty. I haven't showered since I left Freetown so just imagine how I was looking. I was singled out by the custom officials for thorough search. They all busted into laughter when they found pack of Durex condoms in my backpack. Why would they laugh at something like that? The pack was part of my survival kit. The custom guy got hysterical after he found fish hook and Swiss knife in my backpack. He didn't know what the fish hook was at first. He thought it was some sort of weapon. He started theorizing I could possibly be some sort of foreign spy agent because he didn't understand why I would have some of the stuffs I had in my backpack. Where am I heading to? What could I possibly be up to? He took me to his superior who was able to decipher that the strange looking bended thing is a fish hook. But why would I have that with me? My explanation didn't sit well with them. It's a survivalist mindset. You have to be prepared at most times in case of anything. I could go to fishing in the case for instance, our bush taxi break down and there was no food and there happened to be fish habitat nearby. They took my iPod, scrolled through the photos and realized I'm not a foreign spy agent after all. They finally permitted our bush taxi a pass after about an hour and half of the impasse.
We finally crossed the border into Senegal and continued to Kalifourou where I changed bus to Dakar around 4:30PM on 17/11/11. I was so relieved to come into Senegal. The road was better and the atmosphere was different.
Next Episode
This would feature the complete Cape Verde experience accompanied with photos.
PS: This is my first attempt writing such long articles so forgive me for all the grammatical and spelling errors you may stumble upon. I am not a good writer at all.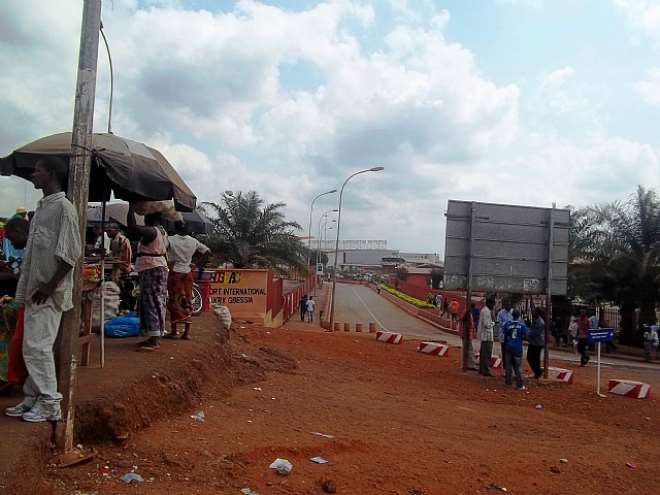 Conakry International Airport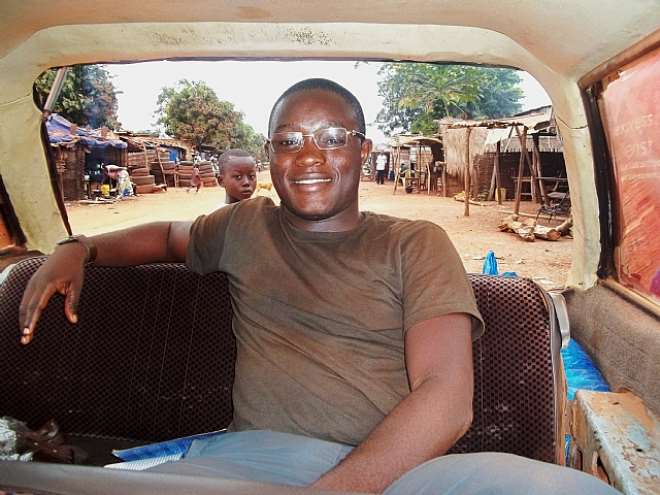 The Lovely Village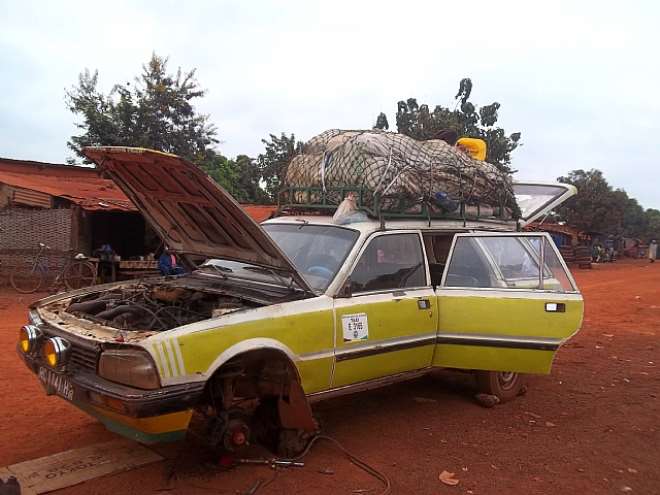 My Bush Taxi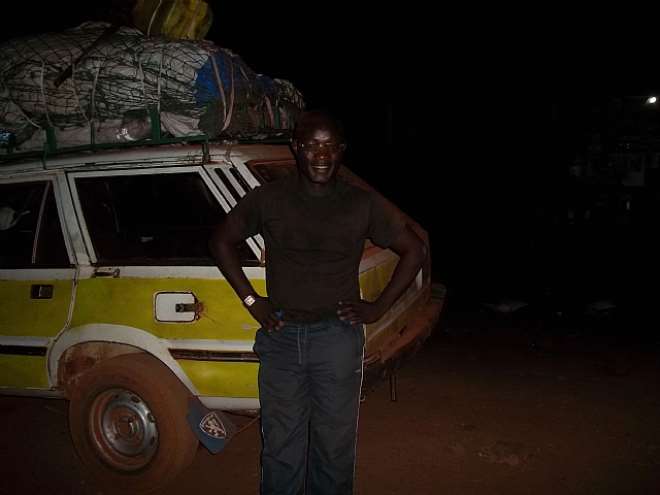 The Push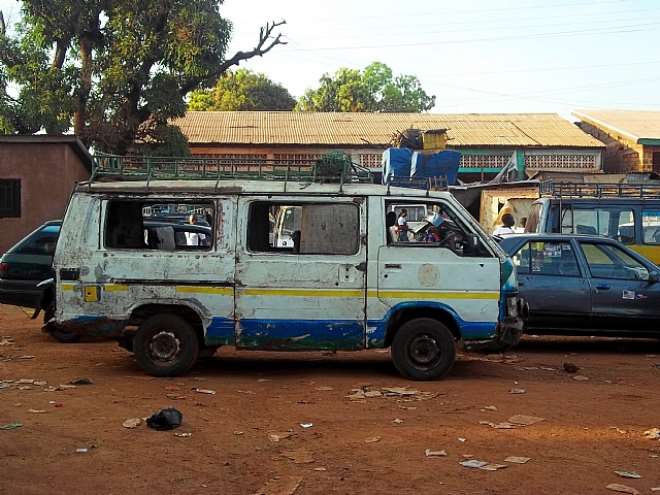 A Bush Taxi in Guinea