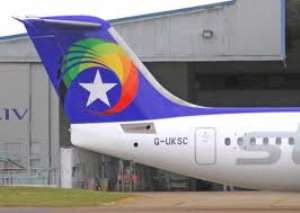 Accra, Sept. 20, GNA - Starbow Airlines on Thursday introduced a new four-tier fare; Accra–Kumasi and Accra-Takoradi now starts from GH¢ 49.00 to 120.00 whilst travelers to Tamale will also pay GH¢ 149.00.
Starbow's reduction in fares is in line with its core values of making air transport affordable to the general public, Mr Archibald Kittoe, Senior Marketing Officer at Starbow, stated in statement to the Ghana News Agency in Accra.
The statement explained that the new fares were not subject to advance booking and were also available on all flight times.
Starbow earlier reverted to its introductory flexi fare of GH¢ 99.00 on mid-day flight for Accra-Kumasi, Gh¢ 99.00 from Accra to Takoradi and GH¢ 149.00 one-way from Accra to Tamale, in commemoration of their first anniversary which falls on 26 September 2012.
The fares were however subject to an advance booking of three days and available only on mid-day flights. It is however subject to availability of seats.
Thus, travelers on Starbow could buy a ticket for Accra-Kumasi and Accra-Takoradi for Gh¢ 49.00 or GH¢ 80.00 depending on which seats are available, or for GH¢ 99.00 or Gh¢ 120.00.
GNA