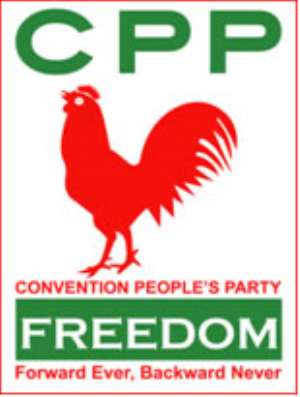 Kumasi, Sept. 20, GNA - The Convention People's Party (CPP) has blamed the slow pace of the nation's progress on the reluctance of successive governments to continue with Osagyefo Dr Kwame Nkrumah's development blueprint .
Ghana, it noted, could have made tremendous economic strides - generating employment for the people, agricultural and technological advancement, enhanced healthcare and infrastructural development, if leaders, who came after Dr Nkrumah had vigorously pursued his ideologies.
Mr. Daniel Essien, Ashanti Regional Secretary of the CPP, said this at a press conference held by the party on the eve of the birthday of the nation's first President.
He said the lack of self-belief and the inability to effectively utilize the human and natural resources were crippling Ghana's forward march.
He said it had become imperative to revisit the seven-year development plan initiated by Osagyefo Dr Nkrumah to turn around the economic fortunes.
The plan, he insisted, held the key to achieving true economic independence to better the situation of the people.
Mr. Essien appealed to members of the CPP to use the "Founder's Day", to re-strategize and chart a new path to ensure its progress.
The regional branch of the CPP had lined-up series of programmes to educate the people on what Osagyefo Dr. Nkrumah stood for.
GNA