September 22, 2012
|
Crime & Punishment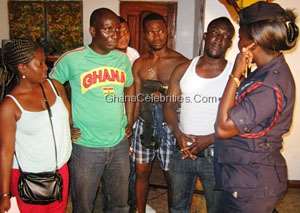 Fraud, now known popularly as 'sakawa', has become the main source of income for some young persons in the country.
Presently, some youth engage in 'sakawa' to support themselves and their families financially.
In an interview with DAILY GUIDE, a 26-year-old young man, whose name has been withheld due to security reasons, revealed that he started 'sakawa' when he was in Junior High School (JHS).
After completing JHS at Nima 1, he attended the Armed Forces Senior High School through the assistance of his parents.
But he refused to attend any tertiary institution after the secondary level.
Even though his parents were willing to support him financially, he chose to stay home and concentrate on his 'sakawa' operation.
'I would have loved to go back to school but when the time came for me to do so, I felt I was too big to sit in class since I received huge amounts of money from my 'clients' so I thought going back to school wasn't necessary for me.'
He further told DAILY GUIDE that he wanted to become a business mogul in future.
He revealed that he usually spends the night in an internet café so as to convince 'clients' to send him money from abroad.
'A client means a foreigner as the terms goes in the 'sakawa' business. If the client turns out to be a male, I sometimes pretend to be a female. With the help of the internet, I get pictures of beautiful and nice looking ladies and send them to the clients.
'I spend the whole night at the internet café all in the name of convincing a client to send me money for my daily bread. I sometimes receive GHC10.000.00 from a client,' he disclosed.
He said 'when the clients become obstinate, then 'Juju' comes in. I seek spiritual assistance from a traditionalist who supports me with his powers to win the hearts of clients effortlessly'.
The young man, who said he had regretted his actions, stated that his parents expressed dissatisfaction with his choice of career.
According to him, 'most young people in our time are into 'sakawa' because of the huge sums of money they receive from clients.'
He advised the youth to desist from the practice and urged them to concentrate on their books and study hard because education is the key to success.
'Sakawa is not an alternative, even when there is no support from your parents. So I urge the youth to desist from it and take their education seriously because that is the only way to make it in life,' he asserted.
He however appealed to Government to provide more jobs in the country to tackle the menace.
By Zulaihatu Abubakar