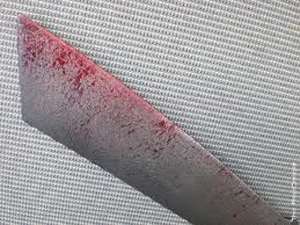 This week has been characterized by bloodcurdling and even murderous incidents in some parts of the country. While two were fatal, one was body-harming after some hoodlums in Nima and Mamobi, two Accra suburbs, engaged in a needless gang war. It was so bad that the overwhelmed Nima Police had to call for reinforcement from their colleagues and the military. That was how bad it was. By the time normalcy was restored, serious bodily harms had been inflicted.
In the most serious breaches of the law, two couples in Accra and Kumasi were murdered under circumstances which boggle the mind.
Criminality is common to all the aforementioned incidents and we fret to think that in the case of the murdered couples, such a barbaric action could take place in a country in which Godliness appears to permeate all facets of society, regardless of the faith.
Our hearts bleed for the murdered couples, one in Kumasi and the recent one in a suburb of Accra. Regardless of the circumstances underlying the criminality, one thing all Ghanaians would want done is the apprehension of those behind the cold-blood murders.
When we think about the many unresolved murders, most of them almost written off, because detectives have reached cul-de-sac in their investigations, we get worried and wish that the ones under review do not join the others. Too many murder cases have been virtually closed and we pray that members of the public could be more forthcoming in their assistance to the police even as we expect a reciprocal action from the security agencies.
The police have still not unearthed what it takes to win the trust of the public. When they do, we strongly believe that some of the unresolved murders would change their statuses and the culprits brought to book. It is heartbreaking that many years after a heinous murder, the culprits are not apprehended, leaving the families of the bereaved to wait for celestial punishment in the hereafter.
Advertisement
One of the murdered persons is a pregnant woman and the thought of the painful ordeal she went through makes us wonder what murderers are made of.
We condemn all those who murder their fellow human beings in this manner and implore both the police and the public to join hands in apprehending perpetrators of murders. Confidence in the security agents' ability to apprehend most murders is waning.
As for the case of the hoodlums at Nima and Mamobi, the elements are the kind who can murder pregnant women, heartless as they are.
We are glad that the police were able to nab some suspects who we expect would be made to face the full rigours of the law. Let no politician interfere with the law as it manages the case. We should all join hands to uphold the spirit of the rule of law.