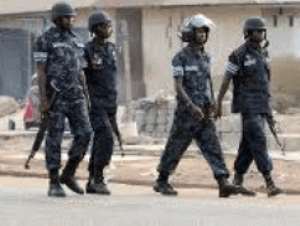 Heavy gun fire on the Ivorian side of the Ghana-Cote d'Ivoire border at Elubo led to the closure of the entry point Friday. Reports also indicate that five taxi drivers who operate along the border have been killed.
Currently, a team of police and military personnel have been deployed to the border in readiness for any eventuality.
The armed men on the Ivorian side of the border are said to have attacked three different locations in Cote d'Ivoire, including a police post at a location called Ponbie Gonzak Ville.
A security source at the border indicated that at the moment more than 150 Ghanaians living in Cote d'Ivoire had returned home using canoes.
It said security was on the alert to ensure that those entering the country using canoes were Ghanaians.
As of the time of filing this report about 4 p.m. Friday, the Ivorian side of the border was still closed to vehicles and people.
The source said currently many vehicles and thousands of commuters who normally did business between the two countries were stranded at the border.
It said it was not clear what might have caused the shooting but indicated that some people had been killed.
A source close to the Ivorian authorities told graphic.com.gh on telephone that rebels had overrun a security checkpoint and other settlements and confirmed that some people had been reported killed in the skirmishes.
The Western Regional Police and Military commands have, meanwhile, asked residents of Elubo and its environs to remain calm. - graphic.com.gh