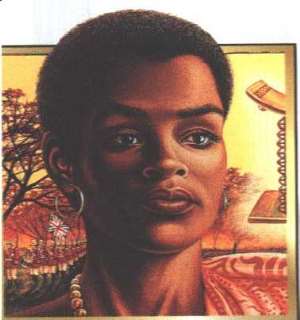 Preparations and vigorous step-ups are underway to organize first ever Nana Yaa Asantewaa Award in Hamburg City. The "NYA Award 2012" is an intercultural event to empower all females in the society with great commitments and achievements.
Formerly, African woman precisely, was confined to marriage institution and was strictly subjected to her husband's command and dominion. Today, the trend has changed due to formal education and civilization. They say "Woman empowerment and equal Rights. What a man can do, a woman can equally pursue it"
On this note, motivating and pampering women make them step out of the limits they have drawn around themselves.
According to the event Director, Mr. Emmanuel Asare in a brief interview, explained that," a woman is the full circle. Within her is the power to create, nurture and transform. In appreciation and acknowledgement of the efforts and achievements of our females, the general public is hereby invited to join us in celebrating the award- giving day to nominate, select, reward and honor the outstanding females of African origin in the area of civil engagement, business, and media. Etc".
The theme of the event is "Celebrating our Grandmothers, Mothers, Sisters, Wives and Families".
A participant remarked "a woman is like a tea bag; you never know how strong it is until it's in hot water and behind every successful man there's a surprised woman".
Find herewith the event location and direction:
Kulturhof Dulsberg, Alterteichweg 200, 22049 – Hamburg.
Direction: U1 / Bus 23 or 39 to Alterteichweg Bus Station, then walk 3 minutes to the venue. TIME: 19.00 – Open End. Special program schedules: Lectures, panel discussions, live interviews, information Desks, and a lot cultural and music attractions.
There are prizes up to 1500 Euros including trophies and certificates to the distiquished winners. For further information, send your emails to [email protected] or Tel. +49(40)36198878
Expected participants include: Dancers from the ElecTricks Fusion Dance Theatre, Live Acts by Nina Malaika / Eileen & Friends , DJs Selectress Nerima / Pascal.
Organizing Team include AGNA group in collaboration with Dulsberg local Authority, Netzwerk, OPTIMIST, ELBCAMPUS, SOLUTIONZ, Reginales Netzwerk NOBI and others.
God Bless our Great Continent Africa.
Report by: Mensah Dekportor (Hamburg)
www.topafric.com Tel. +49(0)17634165647