Goddamn It! Asiedu Nketia Is Such A Bloody Nuisance!!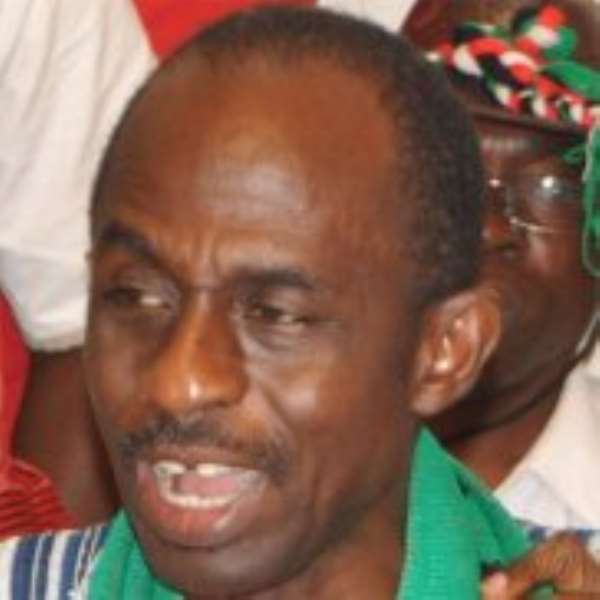 That Asiedu Nketia, the NDC's national Secretary has a penchant to heave needless invectives on people who disagree with him or the NDC is not in doubt. That the NDC's scribe has unenviable habit to subject opponents; whether real or imaginary; to blatant insults and also on anybody else who dares challenge his view or that of his party on national issues come as a sure as the night follows the day. He has had a run-in with Sir John. The same labelled the 17 contestants for the flag bearer-ship of NPP in 2007 as "thieves". He called former President Rawlings; his party's founder a "barking dog". There have been many brushes with some other personalities in the country which makes his recent escapade with PRO of the Presbyterian Church of Ghana a kid's play.
Asiedu Nketia's recent verbal salvo on the PRO of the Presbyterian Church of Ghana was only true to character. Though people may not admit this in the open, the NDC as a party have carved a niche for itself as anti-Christianity for denigrating the clergy at the least opportunity. Leading members have time and again lampooned and castigated men of God at different times for just having an opinion on national issues which were at variance with the stance of the NDC. A renowned man of God like Pastor Mensah Otabil has been subjected to ridicule and opprobrium time and again. Also, Archbishop Dag Heward-Mills of Lighthouse Chapel International was equally scandalised for having a different opinion to that of the NDC. The party's hounds like Kobby Acheampong, Tony Aidoo, Ama Benyiwa-Doe and many other NDC apparatchiks have one way or the other sought to humiliate the church of God and its leaders for no apparent reason. Tony Aidoo for instance once called all "tongues speaking" Christians "mad" even when late President Mills was himself said to be "speaking tongues at the castle during morning devotions." The list of Men of God and other prominent citizens who have been publicly humiliated for making public their thoughts on national matters is endless.
A lot of eyebrows have been raised since the Electoral Commission announced the creation of 45 new constituencies for the December general elections and many people have questioned the common sense in the whole exercise. The E.C have been cautioned by various stakeholders and well-meaning citizens but it seems Afari-Djan and his group are hell-bent on going ahead with the creation of those 45 constituencies. To that effect, the Presbyterian Church of Ghana as a major contributor in the nation's development especially, in the area of education issued a statement to tell the nation and the world about their stance on the whole saga. True to his character, Asiedu Nketia had the effrontery to chastise the Presbyterian Church for having an opinion on the E.Cs stiff-necked intransigence to create 45 new constituencies for the coming general elections. The effrontery displayed by Asiedu Nketia when he declared "keep your Bible and let us keep our constitution" was childish and bordered on damn-right idiocy! This is why I for one, agreed with the PRO of the Presbyterian Church for taking on the NDC's scribe who prefers to behave like spoilt-brat and hoodlum; rather than the secretary of a national party. Asiedu Nketia's tongue-in-cheek comment that the Presbyterian Church should stay away from constitutional matters was pathetic! Who does he think he is? I can say without a shadow of doubt that many of the clergy in the Presbyterian Church are much more educated and are more knowledgeable on constitutional matters than the likes of Asiedu Nketia. As Ghanaians, the clergy have every right to voice their concerns on any national issue and shaggy looking Asiedu Nketia can go to hell if he wants! Being priests does not make them less Ghanaians than the likes of "General Mosquito."
It's about time weaklings like the NDCs national secretary and others in his party who hide behind their party being in power to cast needless innuendos on noble men and women of the clergy are met with even more potent verbal missiles than they spew out in the public. The Presbyterian Church has contributed and still do contribute immensely in diverse ways especially in the area of education in the country and therefore are obliged to verbalise their thoughts on national issues and whoever disagrees can tie a bag of cement on their backs and go swim in the deep blue sea for all I care! What has Asiedu Nketia and the generations of his family ever done for Ghana? Other than shamelessly contriving to get a contract to supply the most expensive blocks in the country to the Bui Dam Construction Company and also calling his own party's founder and other prominent citizens' names; what else has he done? Emmanuel Osei Akyeampong, the PRO for Presbyterian Church was right when he put Asiedu Nketia in his proper place by telling the latter that a, "normal person cannot speak like" the way NDC scribe does. Even more poignant was when the PRO quipped; "I don't know whether Asiedu Nketia was speaking under the influence of alcohol… The President must call them to order because these insults have been going on for too long." Bravo Mr Osei Akyeampong! I guess you were being tactful with the choice of words you used to describe him. Asiedu Nketia looks like an alcoholic anyway even if he is not one. The Presbyterian Church owes no one an apology. If Jesus Christ cracked the whip when the occasion necessitated it, then the PRO was equally right in chastising the NDC scribe for behaving like a riffraff. President Mahama's apology and call for ceasefire was misplaced and hypocritical. If the latter's wasn't a political gimmick, he would have asked his general secretary to apologise to the Presbyterian Church. President Mahama should not goad Asiedu Nketia on behind closed doors and come out in public to play on the emotional keyboards of the citizenry and Christians in particular.
Asiedu Nketia is a wind-up merchant who has perfected the art of making sarcastic comments even if it's needless and out of place. He cares less about the impact of his utterances; be it positive or negative. Goddamn it! The man is such a bloody nuisance!! He doesn't seem to appreciate that democracy has big enough room to accommodate all sorts of diverse opinions: even silly opinions like the ones he himself espouses. He is but an incorrigible hoodlum and a rabble-rouser. I dare him to continue on the path he has chosen to tread on. Nemesis awaits him for denigrating God's anointed in the Presbyterian Church. Asiedu Nketia is tactless and lacks decorum. Once again, I congratulate Mr Emmanuel Osei Akyeampong for cracking the whip on an incorrigible soul like Asiedu Nketia. The ball is now in "General Mosquito's" court. To change or not to change? That's the question for NDC scribe to answer. I rest my case.
Kofi Kyei-Mensah-Osei