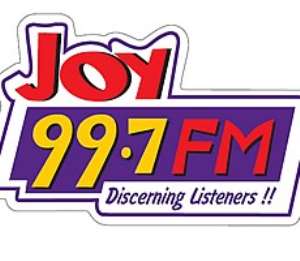 You don't want to miss a life-time opportunity to laugh off your head and momentarily forget your sorrows and enjoy a rare break from the unceasing, tiring politics this Friday.
In fact you can't afford to miss it - the Founder's Day edition of topsy turvy on Joy FM.
You won't see Sekou Nkrumah reading the news, or Dr. Tony Aidoo and Gabby Asare Otchere-Darko presenting the Super Morning Show on an ordinary day. This is why you must keep your dial on Joy FM all day this Friday.
Just take a look at the line-up!
FOUNDER'S DAY EDITION OF TOPSY TURVY on JOY FM
1. News at 6am – Sekou Nkrumah
2. SMS- Dr Tony Aidoo/Gabby Asare Otchere-Darko
• Newspaper Review – Hosts
• Sports Center - Araba Koomson
3. Headline News @ 10- Afia Appiah
4. Cosmopolitan Mix – Hon Kojo Adu-Asare (NDC)/Sammy Awuku (NPP)
• Announcements
6. Joy Midday News- Gladys Ampaabeng fomerly of GBC/Seth Ohene of the NDC
7. Lunchtime Rhythms- (12.30-2pm) Kojo Asante (CDD)
10. DJ's Flavor – (2-3pm) – Ekyi Quarm (COO, MULTIMEDIA RADIO)
11. Drive Time (3-6pm)- Anthony Karboe (NPP)/Victoria Hammah(NDC)
12. Newsnite- Angela Dwamena Aboagye (Ark Foundation)/Charles Sam
13. Drive Time (6.30-8pm)- Lawyer Ace Ankomah